Off to Amsterdam with Martin and Angela. It is only a 30 minute or so drive from Wassener and then another 30 minute drive through the city finding somewhere to park 😛 The old city was seemingly built for bicycles. At one point, crossing the road I had to wait about 30 seconds for a break in the stream of cyclists. But I get ahead of myself.
Being 7 hours behind in the Netherlands, some things, like news and running 123Host.au are a little wonky. We started hearing the election result at lunchtime and were we not vegetarian, would have hunted down a celebratory election sausage sizzle.
Well done Australia, I wasn't convinced that enough people had seen through the bullshit and would switch to other, less brown, bullshitters. And some lovely sprinkles on top…Pauline Hanson may lose her senate seat? Greensland, I didn't think you had it in you. Potato Head as leader of the Liberals…hilarious! I stopped voting Labor years ago…let's see if they can restore a little of my faith (spoiler, I doubt it).
Let's start with a poingnant reminder that would be easy to not notice as you wander the streets of Amsterdam. The plaques about are about 75mm square and are dotted around the city in front of houses along the canals. They give details about someone, likely Jewish, who was removed by the Nazis during WWII. To be honest, had they not been pointed out. I likely would not have noticed them, but once you do, they can't be ignored.
To give you some context, let's get our bearings, something I should have done before we got there.
Don't quote me on facts, some may be post-truth. In the 17th century as Amsterdam was expanding as a port, the semicircular canals were dug progressively as the city grew. Merchants and shipping companies built along the canals and were mostly keen to outdo each other and flaunt their wealth.

Add into the mix the fact that taxes were paid based on the length of a building's frontage and savvy business people were soon building narrow, deep and tall, leading to the distinctive streetscapes of Amsterdam.
I admit that I had no idea at all. I knew people flocked here, but I thought it was for the coffeeshops, amongst other things. Well it is the coffeeshops, but now I realise that there is a lot more. Clarification ppoint There is a difference between a coffeeshop and a coffee shop, especially in the items on the menu.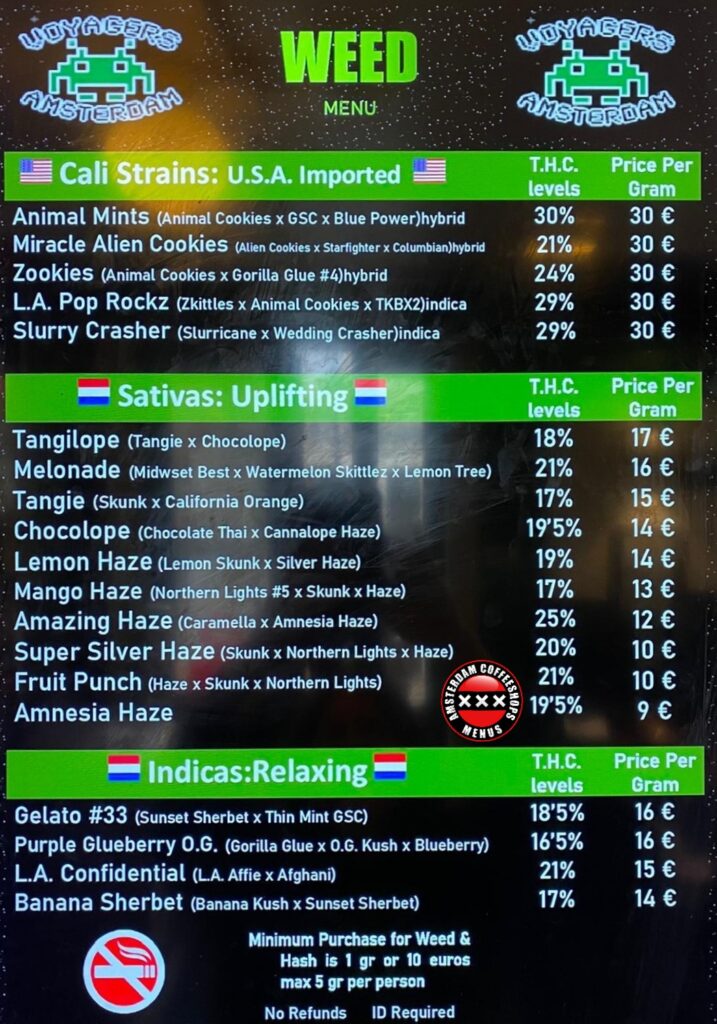 Cannabis is not legal, but is decriminalised, so coffeeshops kind of look like cafes or bars with people hanging out enjoying their intoxicant of choice, openly and naturally.
Did I say canal trip? I had no idea what the plan was for the afternoon, mine was the coffeeshop experience at a minimum. Behind my back, a tourist experience was being discussed and pretty soon, there we were, doing something I never would by myself, jumping on a canal tour boat.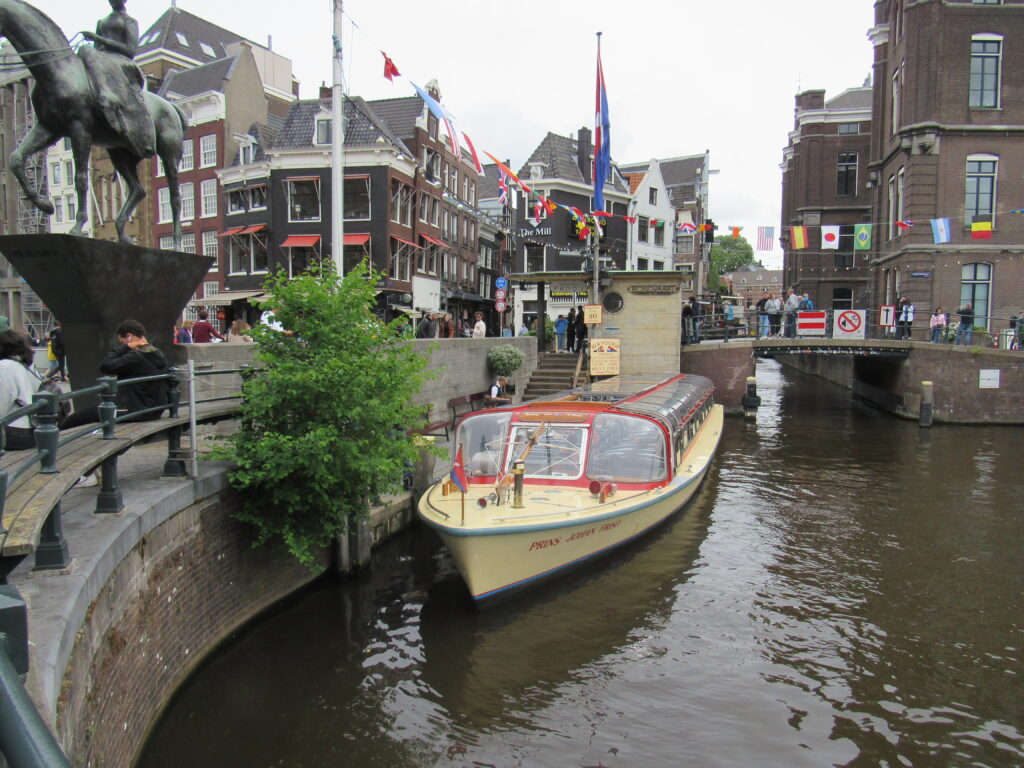 I never thought I would say this, but if you get to Amsterdam, do this tour. Only 13 Euros ($20) and a fantastic way to see many of the canals and have the history described (in any of 19 languages).
So many photos to choose from, I may let them do most of the talking.
Before we actually got on the boat, there were obligatory stops in the "we only sell one (overpriced) thing" stores. I have already mentioned the weed shops and the beer shops, there were also cheese shops galore, as you might expect. But who knew there was a rubber ducky shop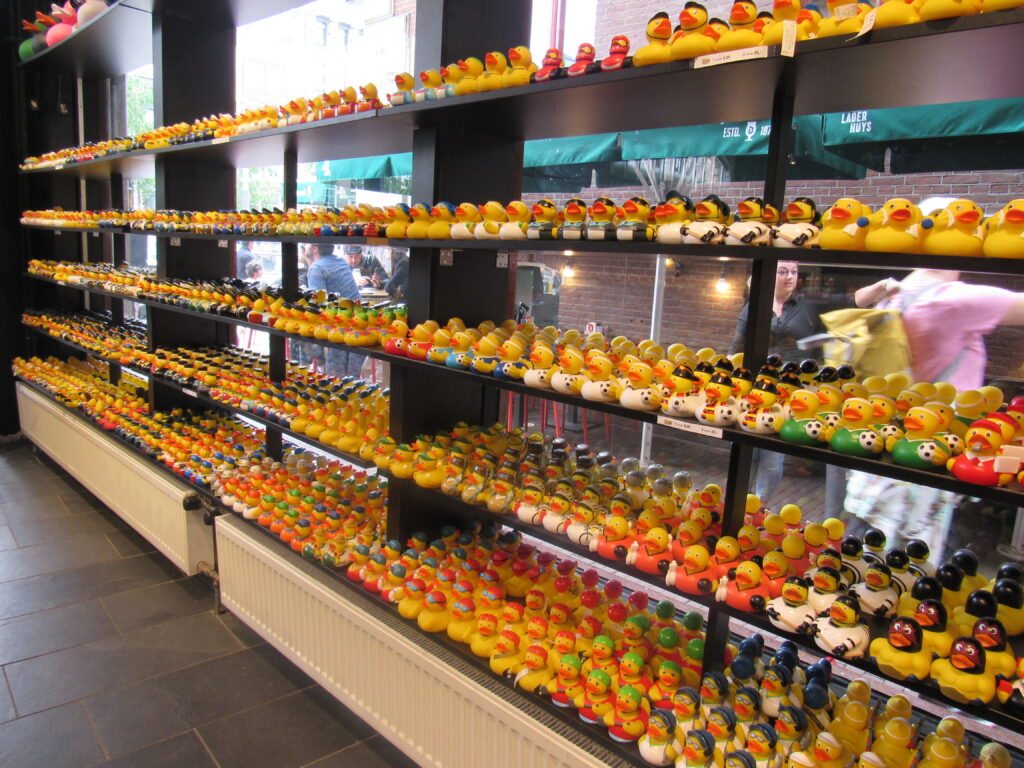 or a sock shop
But lets get aboard that boat.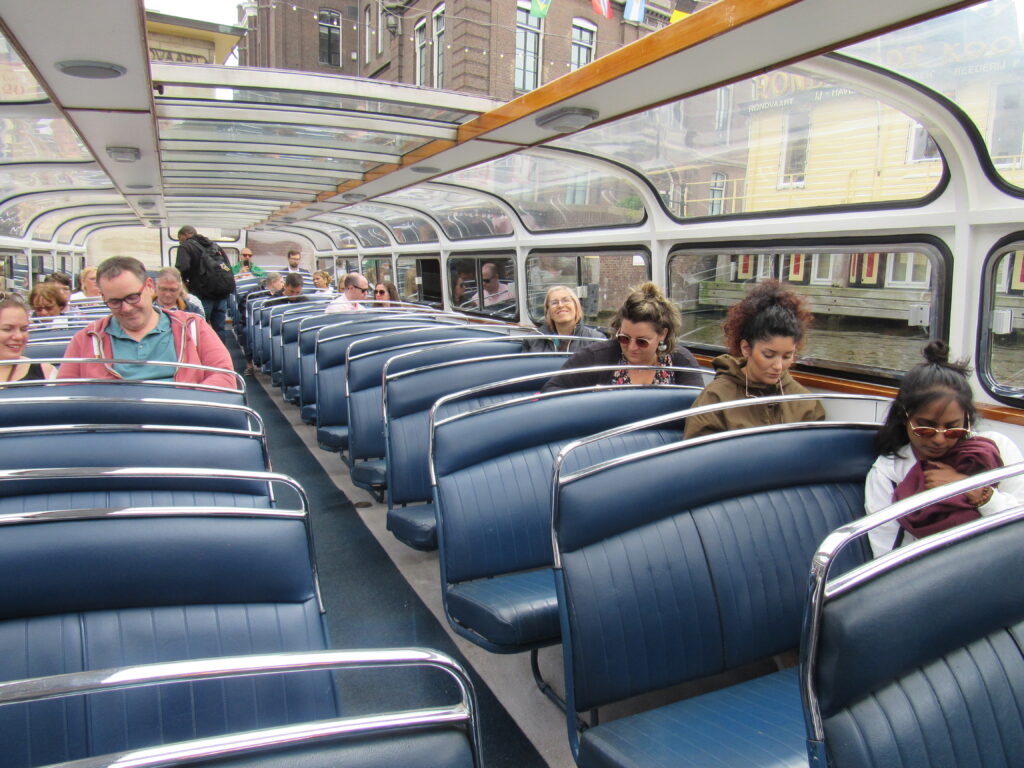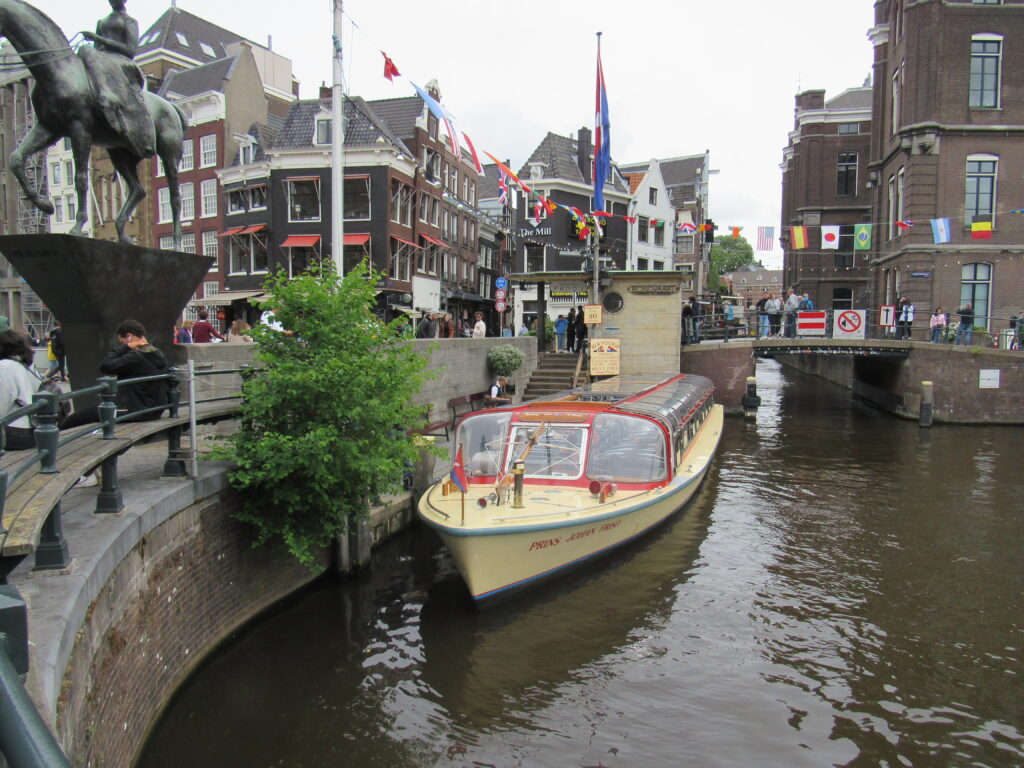 A series of bridges up a canal. Aha, this is why the boats are so low.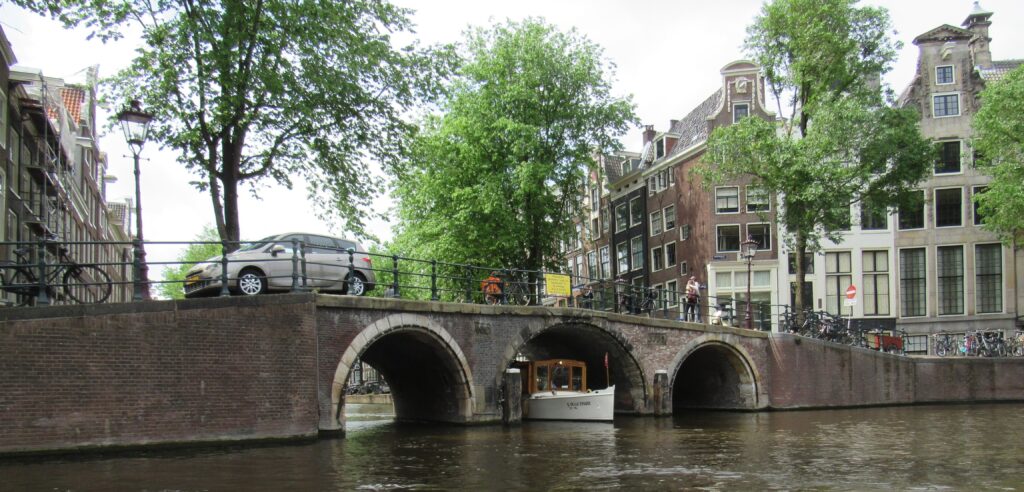 Almost all of these places were warehouses along the canals, so they had a point to hang a block and tackle to haul goods upstairs. Modern houses still include this to move furniture in and out as they are so narrow, negotiating stairways is impossible.
The ultimate tiny house? At least taxes were low.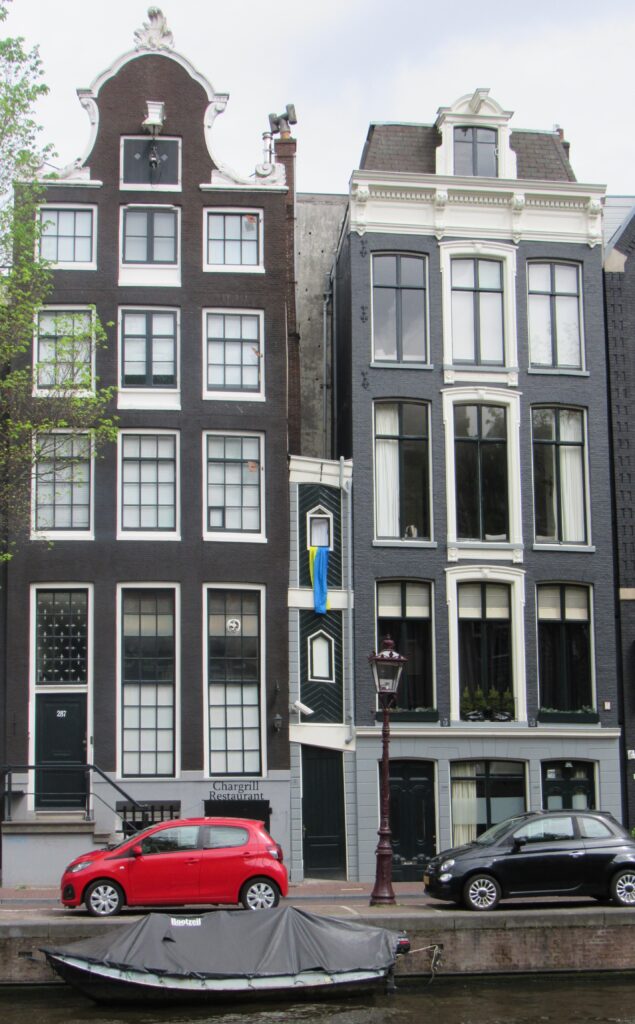 Once we had finished the tour, there was more fun to be had in the beershops…
my drink of choice was a 3 beer sampler…my order is always "surprise me".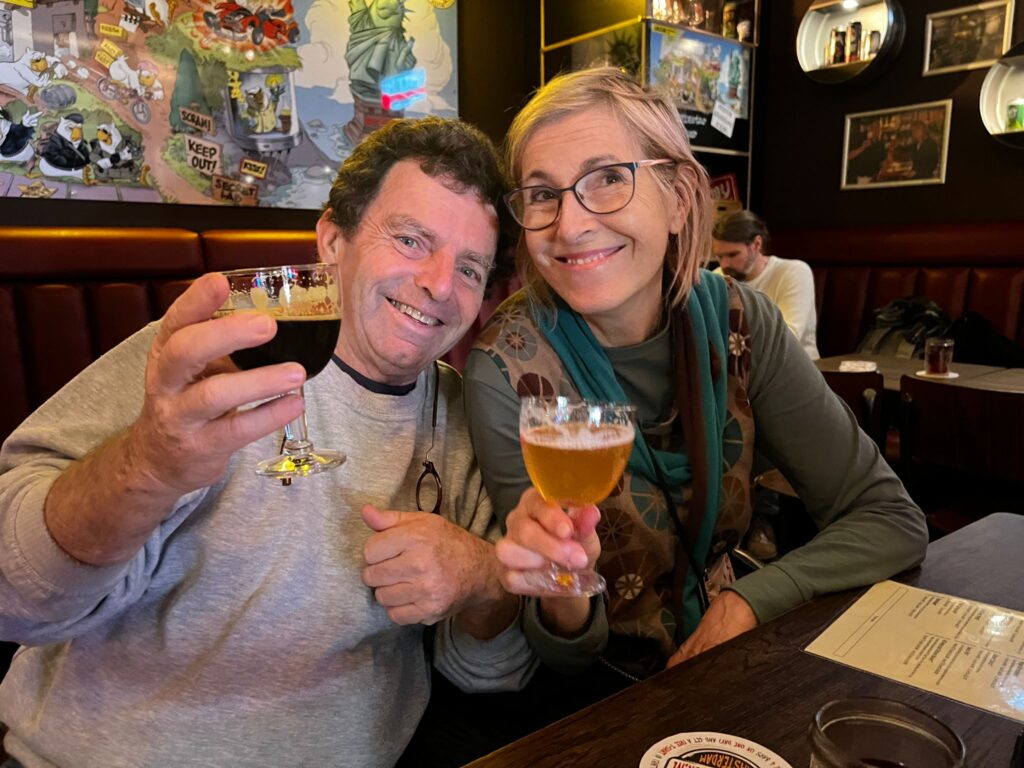 These are bitterballen. Deep fried goodiness with a filling traditionally made from meat, but that is so last century. The vego ones we had were scrumptious.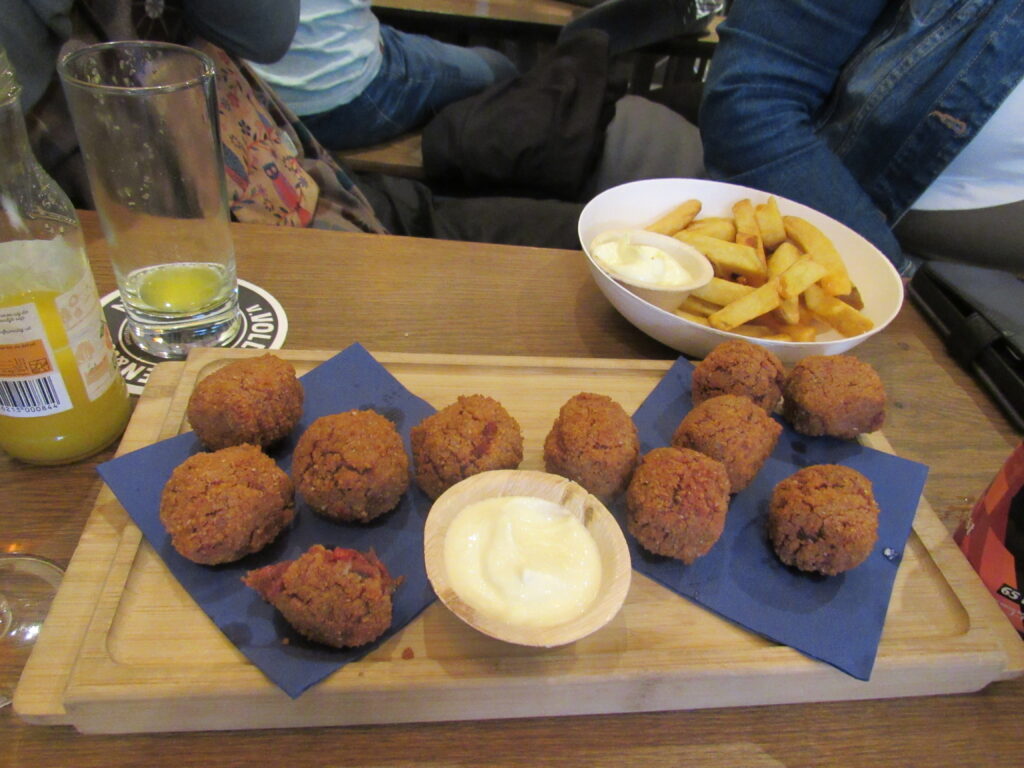 What a fabulous and surprising day out. Of course, photos never do the views justice.
I particularly noticed that there are hardly any run down buildings. They are all in excellent condition, even those not facing the tourist route.

If you live in one of those tiny houses, you might want to drive a tiny (electric) car.
I am starting to remember to turn on my GPS tracker. No, we didn't walk in circles, the big one is the tour boat. I was half convinced that we would never find our car again, but Martin was on the case.
Right at the end of the day there was a Dr Kerfuffle moment