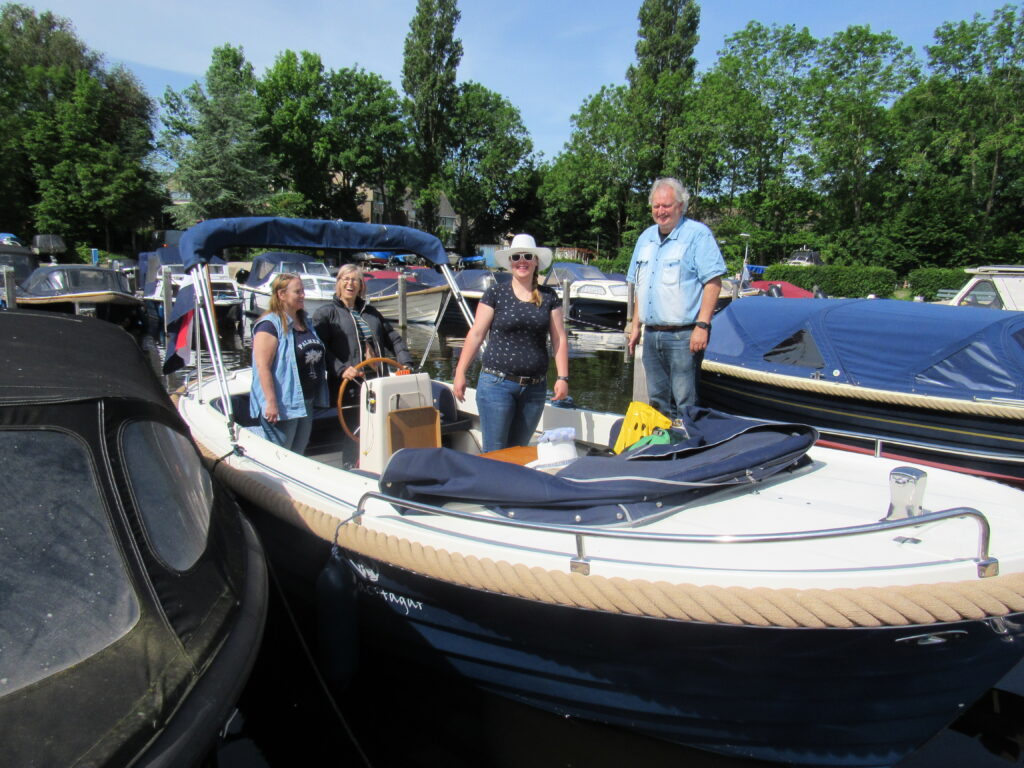 Another day, another canal trip. But this time it is in Martin and Angela's own small boat. It is a glorious Sunday so we are loaded up with supplies and off to Leiden, site of the first side-trip, when the sole mission was beer.
Unlike in Australia, they don't see the sun often enough to have a sunscreen culture. By the end of the day, pale European skin wasn't any more. It was mostly a nice pink colour and likely to be a bit tender the next morning.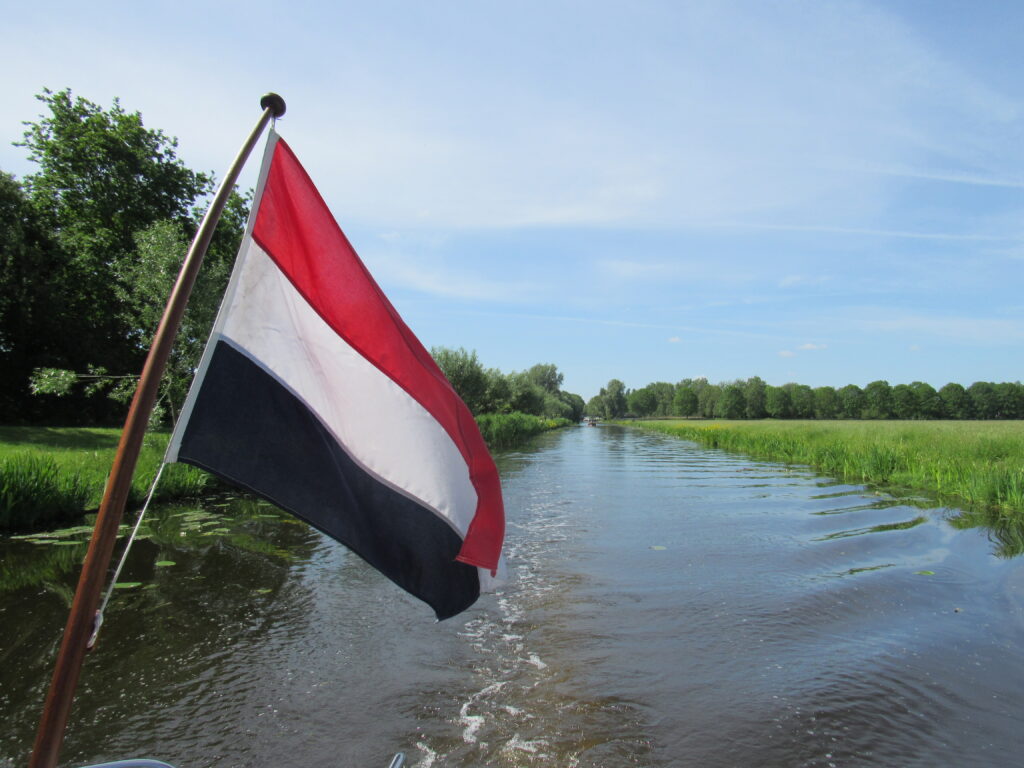 Hats off to Martin. Again he demonstrates mad navigational skillz as we head along of series of criss crossing waterways, joining other boats as we all head to Leiden…or somewhere.
The tourist blurb says:
The historic city centre is home to no fewer than 28 kilometres of canals. To cross all these canals, you need bridges, and the city centre alone has no fewer than 88 bridges! The historic city centre is surrounded by water. These surrounding moats, known as singels, enclose many green spaces, which is why this area is called Singelpark. Leiden is fantastic when experienced from the water!
We were chugging along, dropping in at a couple of friends who lived along the water. I said "this has grown to more like a river than a canal" to which I was told "this is the Rhine". Firstly, I had only ever associated The Rhine with Germany, secondly, I pictured a huge river. This wasn't.
Seeing a place from the water is almost always more interesting than from the land. For a start you get to see different things. I think this is going to be the roof of a silo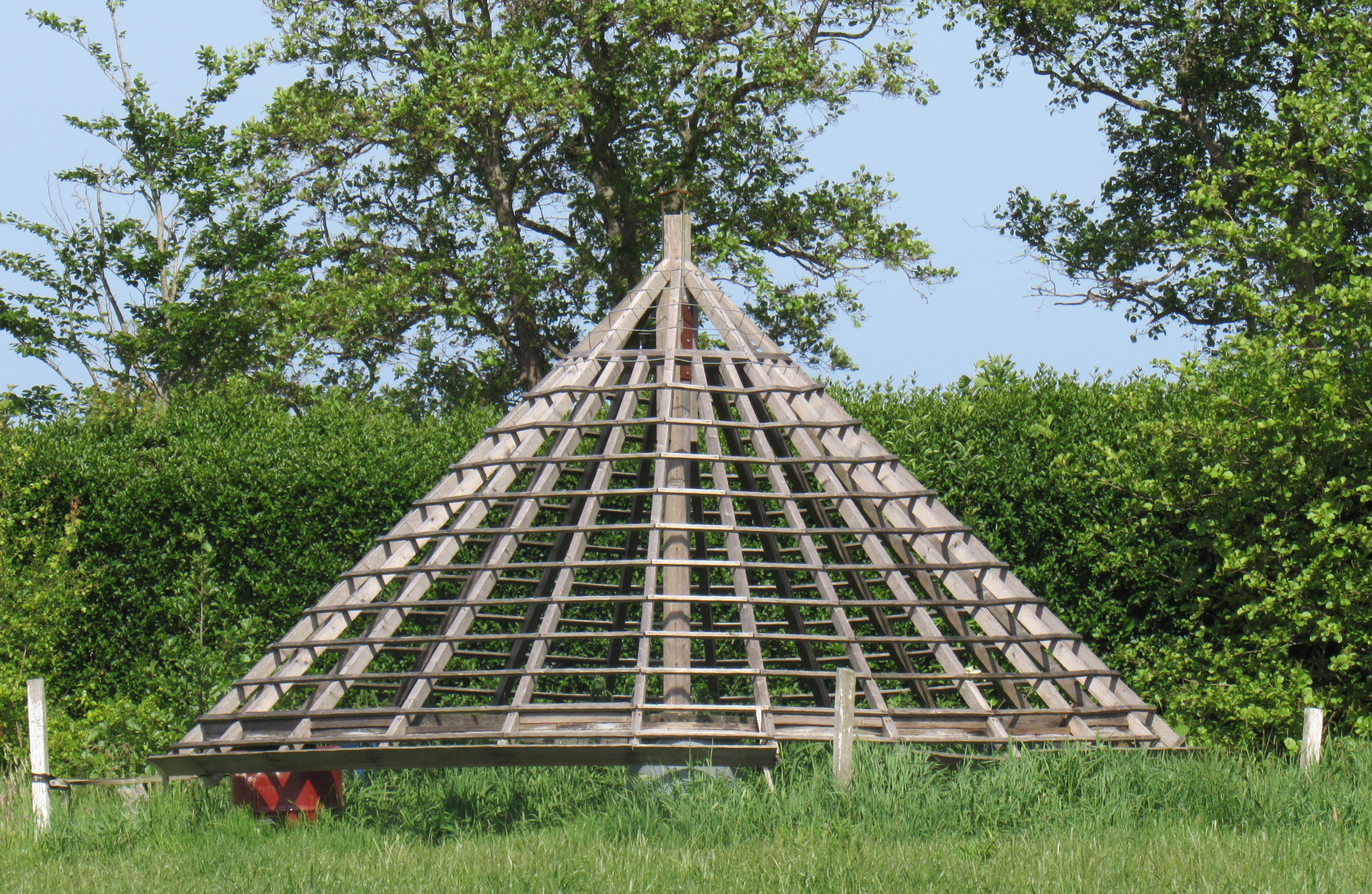 the obligatory birdlife photos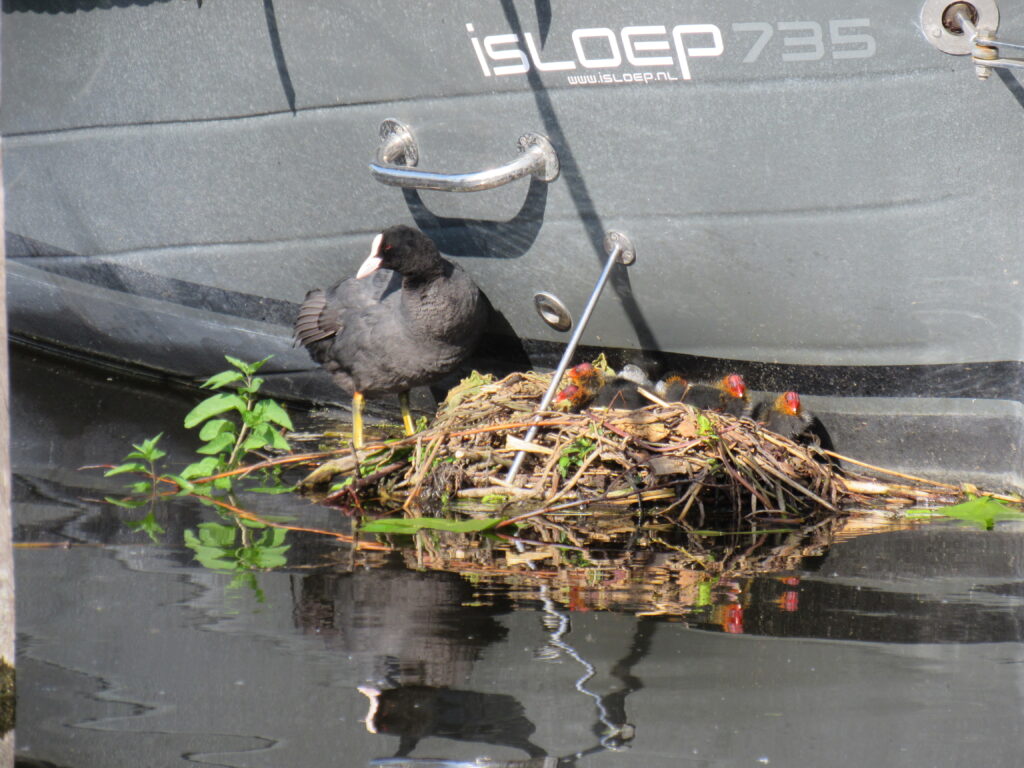 At last, plenty of windmills.
Incredibly, they started appearing in the 13th century and at one point there were over 9,000 mills. Some still operate for tourists, the one above was open to visitors. But we were on a mission.
Originally they were used to grind grain, saw timber, etc. But most importantly, they pumped water out of the low areas – much of the Netherlands is effectively a drained swamp. Nowadays they are historical monuments that look very cool in the landscape.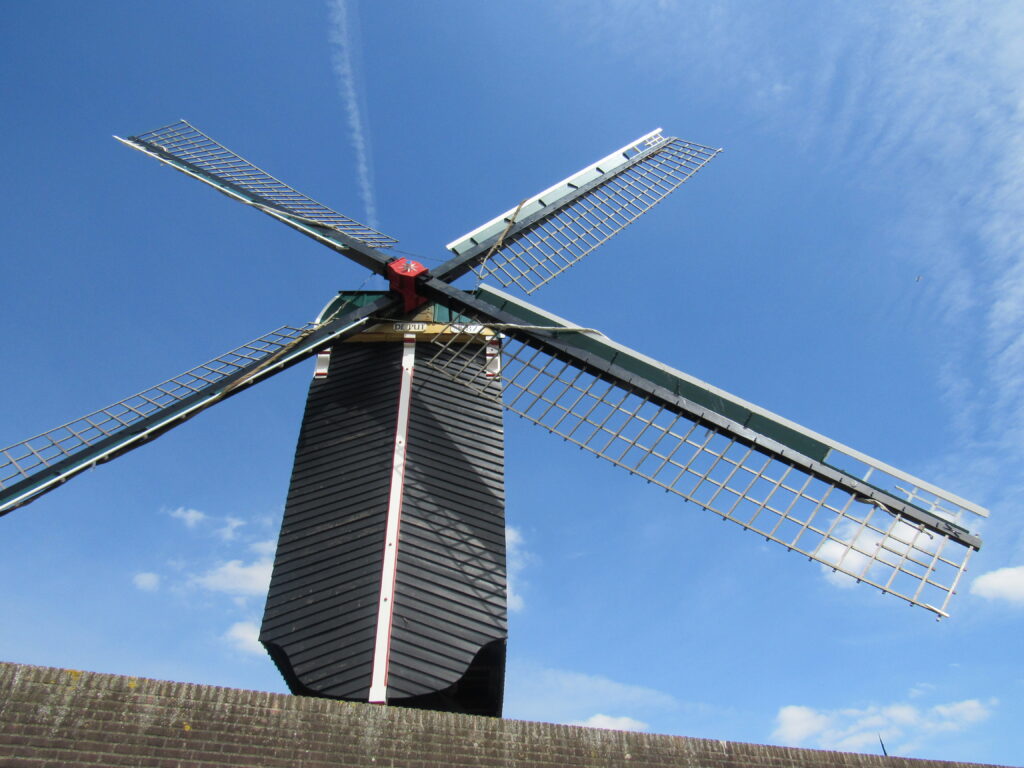 It was a bit disappointing to discover we were 2 days late for National Mill Day (2nd weekend in May) when the mills open to the public. That is the equivalent of arriving in Australia 2 days after the celebrations because we changed government.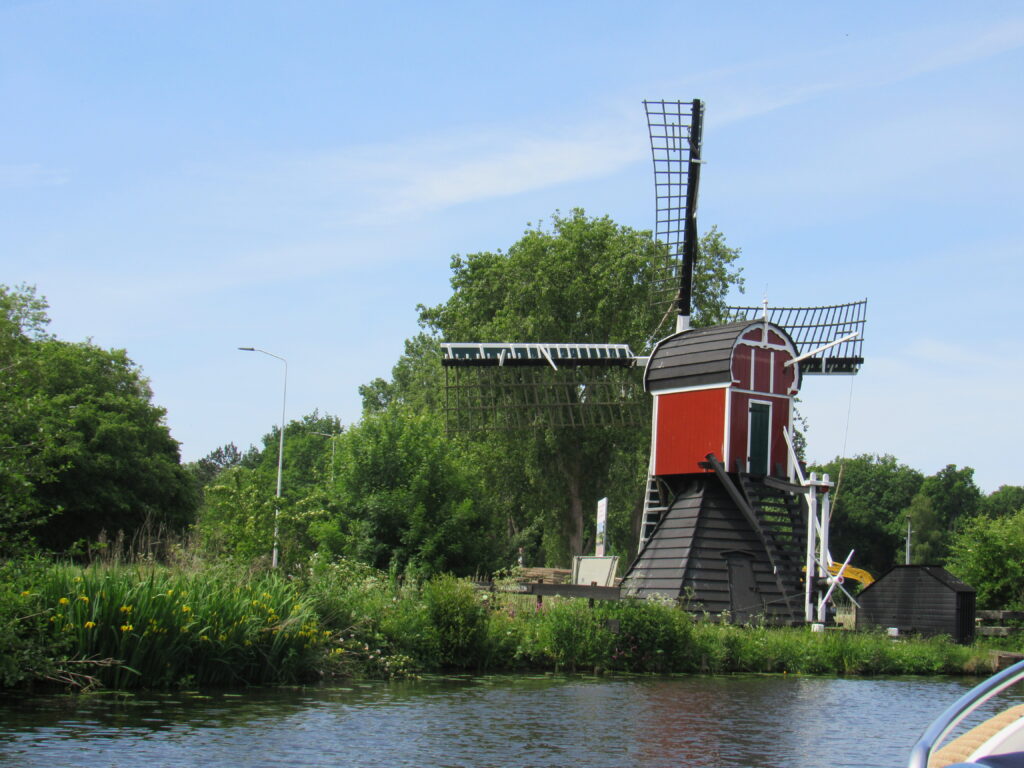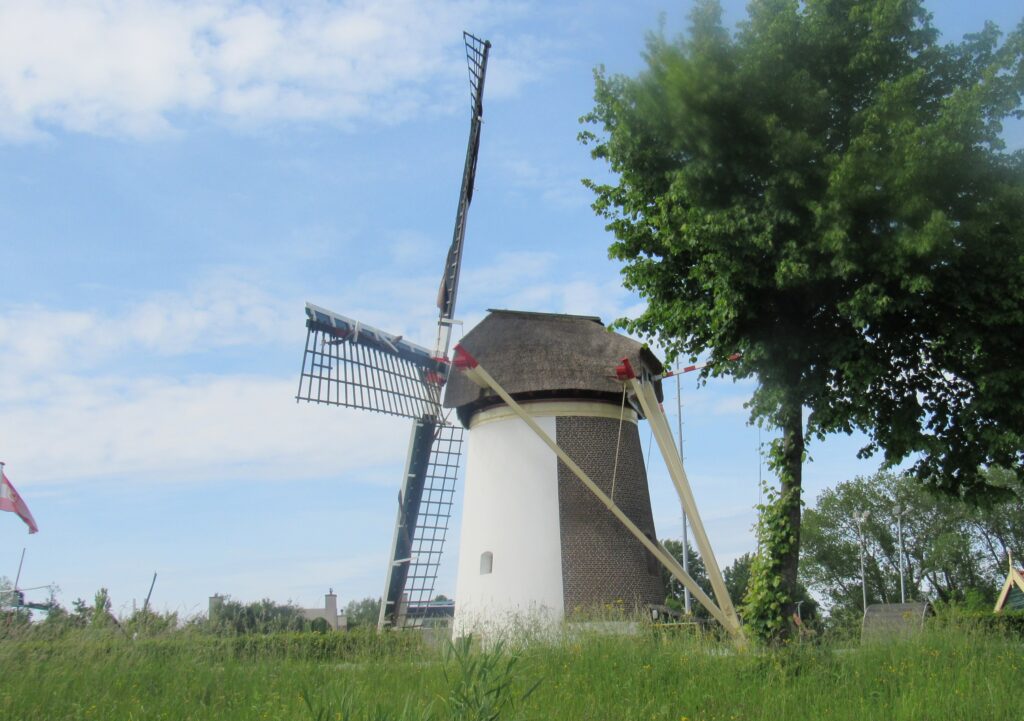 i think this is my favourite shot.
Here we are coming into the main old part of town where we could cruise along, sitting in the boat looking very smug, as people in cafes and the streets looked on enviously – otherwise what's the point?
The building on the left is dated 1652 or so, about the time the Dutch were visiting what is now Western Australia. Imagine how different our lives and architecture would have been if the land was colonised by the Dutch. I imagine we would still be trying to become a republic, though in fairness, the Dutch did give up their colonies a fair while ago.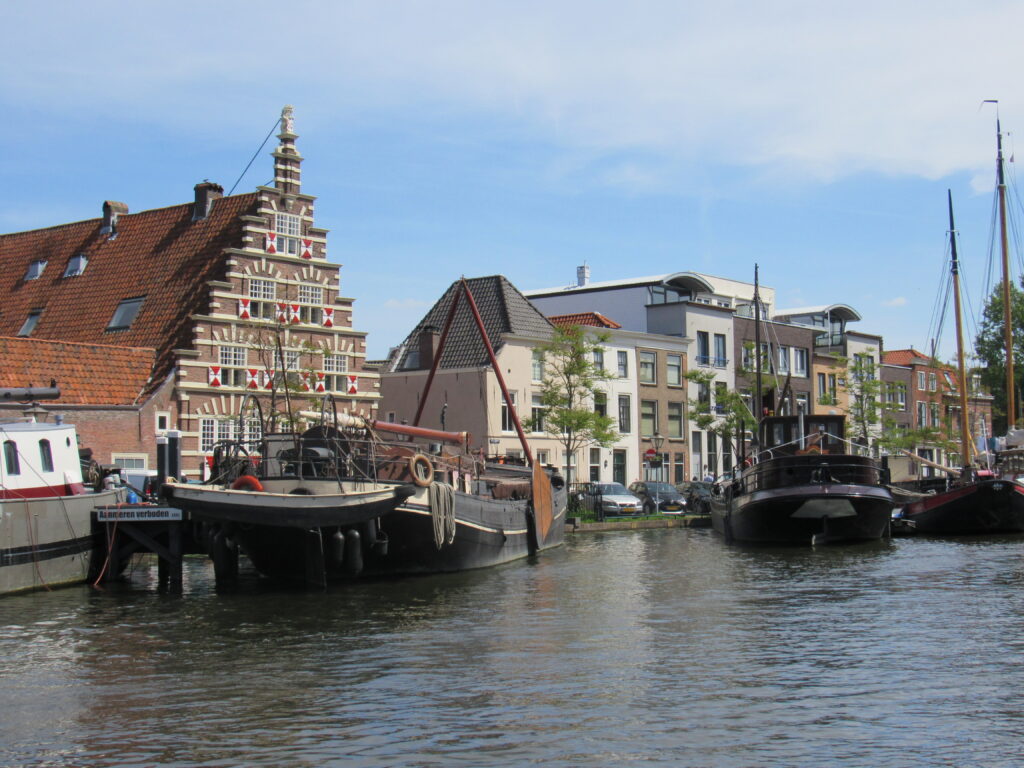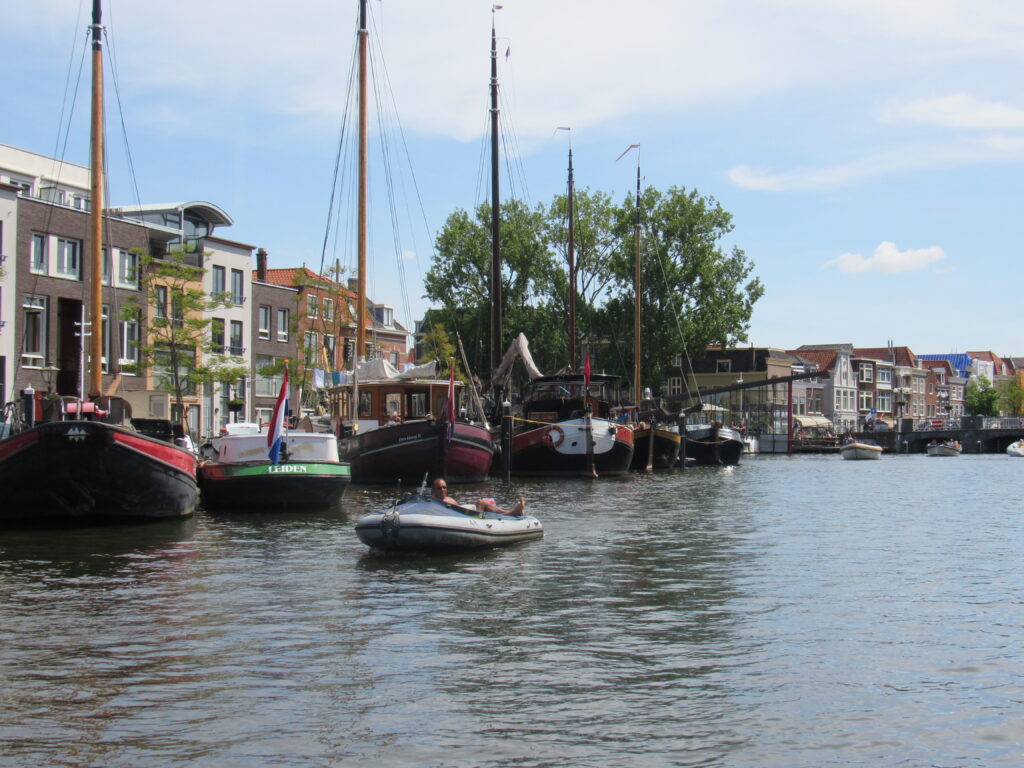 As if being uber-cool cruising the canals isn't uber-cool enough, we tied up beside an open square and then nonchalantly wandered over one of the 88 bridges for coffee, Dutch apple cake, and beer.
A beautiful sunny day, if you look through to the other side of the canal, just in front of the waiter with the red apron, you can see our blue boat.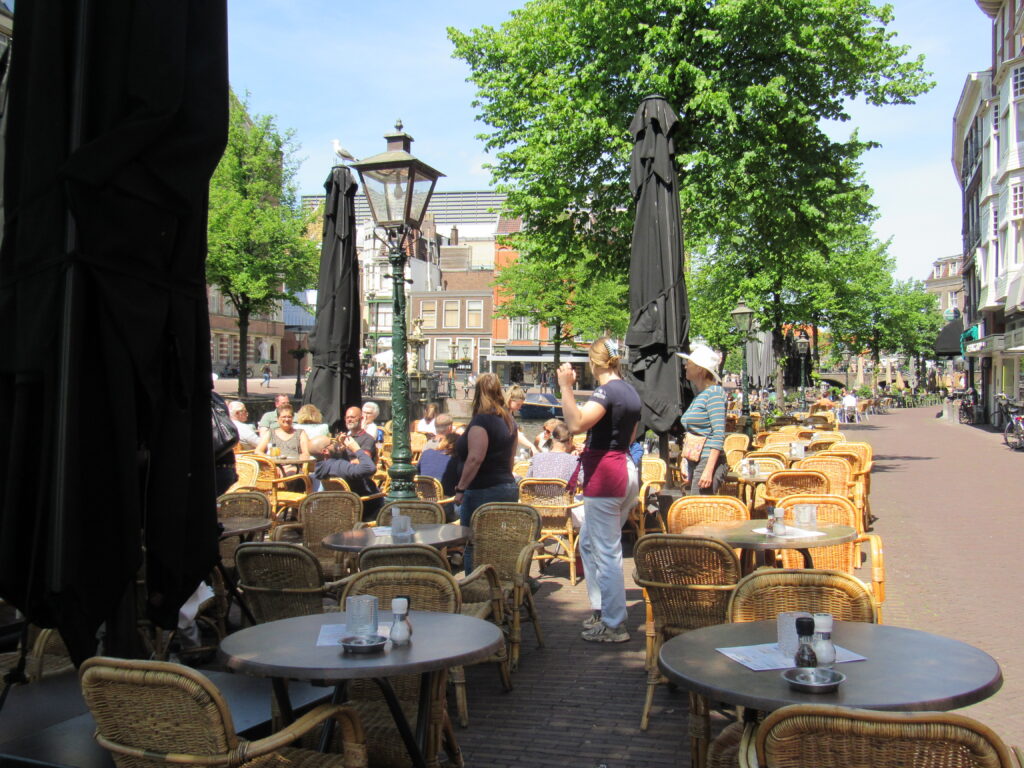 As you can imagine, it was a pretty awesome day out, especially right after Amsterdam. It is great having family or friends in places you visit. It's often fun for them too, playing tourist for a while.
Finally, just how low were the bridges? This video is of just one of many similar that we passed under. When I have to duck, you know it is low.