We have headed to Bremen in Germainy for the weekend. Being from Australia, where we are so internationally isolated, it is bizarre hearing peope say things like "I am going to France/England/Spain/Somewhere for the weekend", much less doing it. It only takes four hours on a couple of trains with one anxity causing transfer, and we are there. Some things do help get there quickly.
We are here to visit Christa, a lifelong friend of the Tall One, and her partner Helmut. They met during holidays when they were kids, became pen pals (when people use to do such things) and have a shared love of art. Here she is in front of one of her works in a bookshop window in Bremen.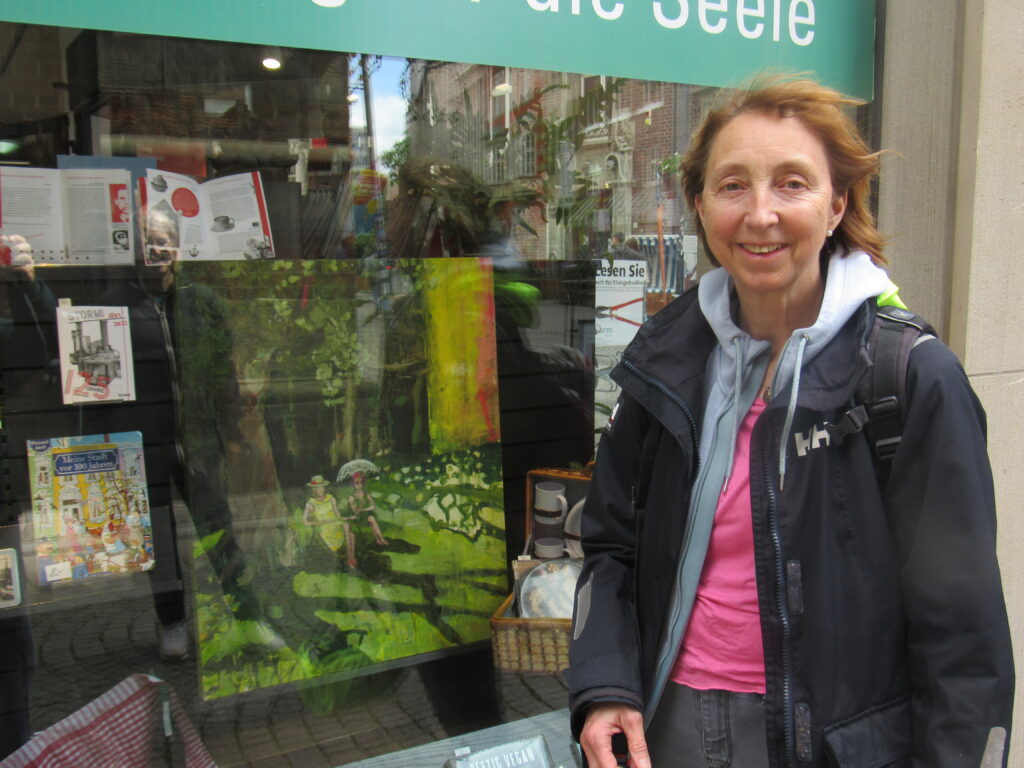 To say we are being treated well by our hosts is an understatement. We have bikes, we are shown around, we eat. Even breakfast is an experience; plenty of yummy dark bread, loads of cheeses and some home made strawberry jam. I am not fond of jam, it is usually too sweet, so when I say that this is just fantastic, you can be sure it is.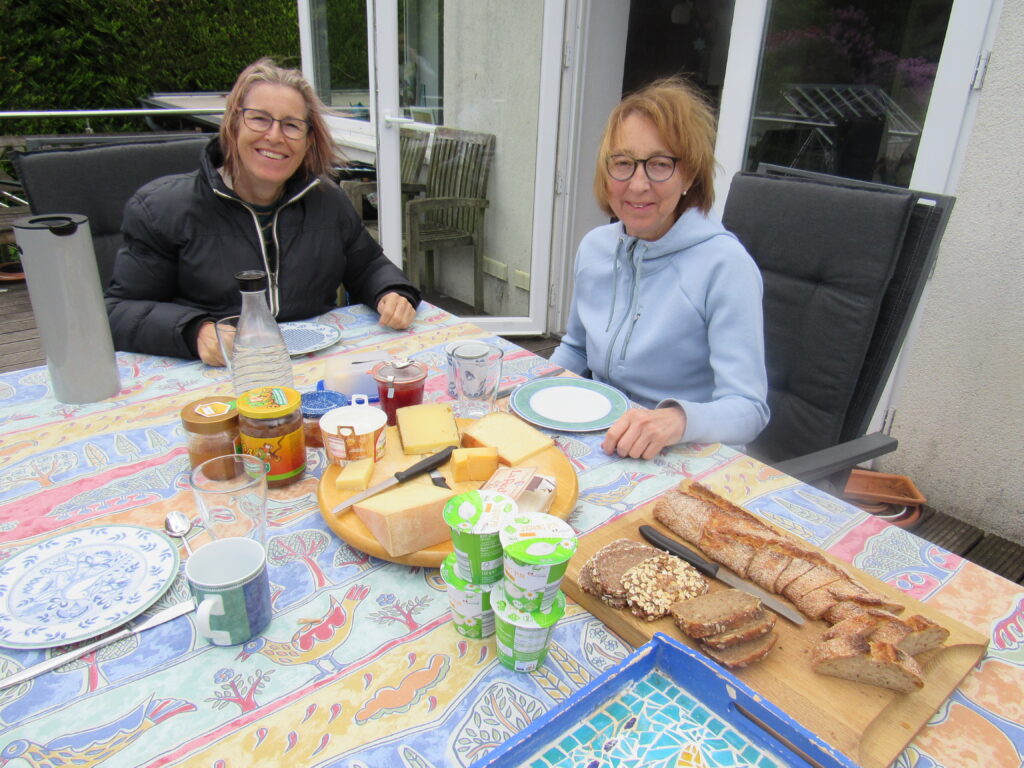 The only thing Christa and Helmut haven't organised well is the weather. The wind is cold and strong and it is showery. But so far we have managed to time our bike rides to fit between the rain.
We headed into central Bremen which like most cities in Europe, dates back to the 16th century and earlier. Apart from Rotterdam (and others no doubt), which has no old buildings and has mostly been rebuilt, Europeans were lucky that the older parts of most cities seemed to escape bomb damage during WWII.
I just realised I skipped ahead a couple of days, so let's rewind to Thursday, "Father's Day", but not like the Father's Day we know, where the idea is to spend time with dad and be thankful.
In Bremen at least, Father's Day is celebrated by going cycling with other fathers, taking along lots of beer and loud music. They were having fun and were friendly, so didn't spoil our 25km ride along a dedicated bike track through what I think is a conservation area. I even managed to score a beer from one group, I wish I had taken a photo.
As we rode, I was stopping regularly. I am still captivated by the thatched roofs…they are just beautiful. So are the women 🥰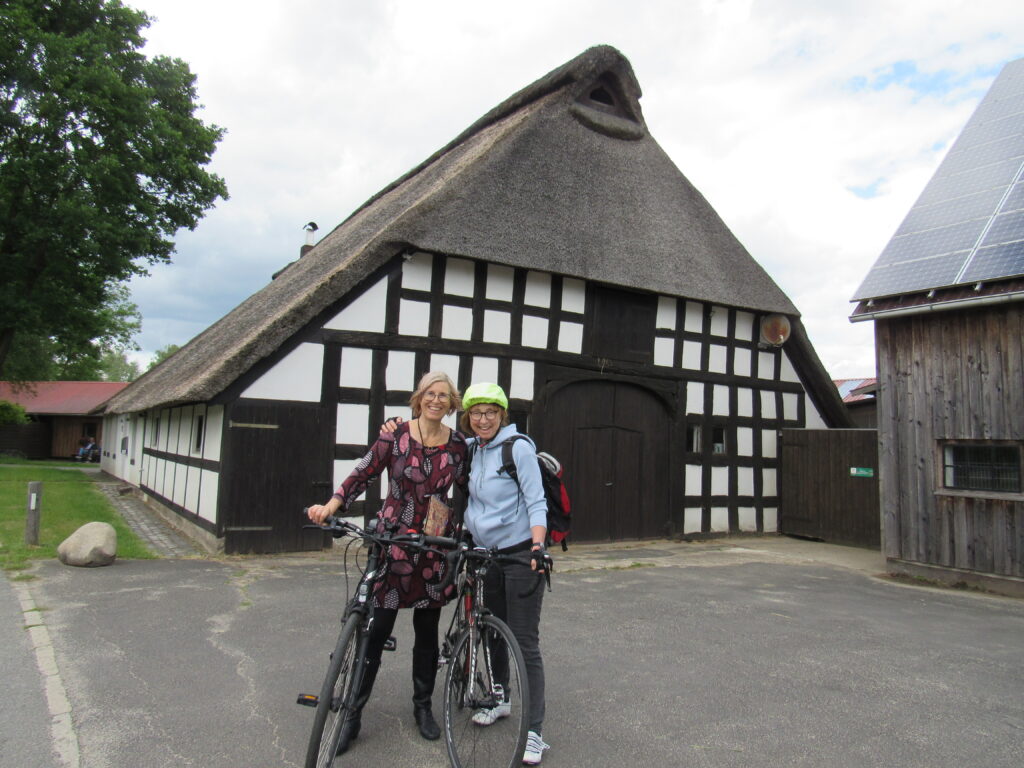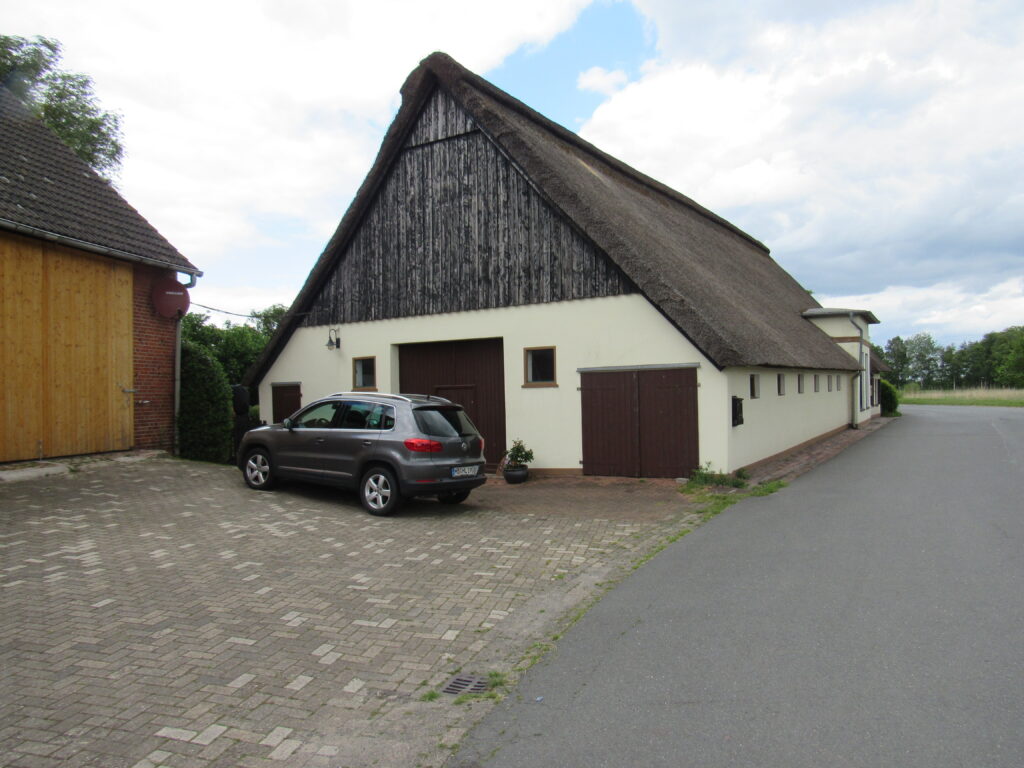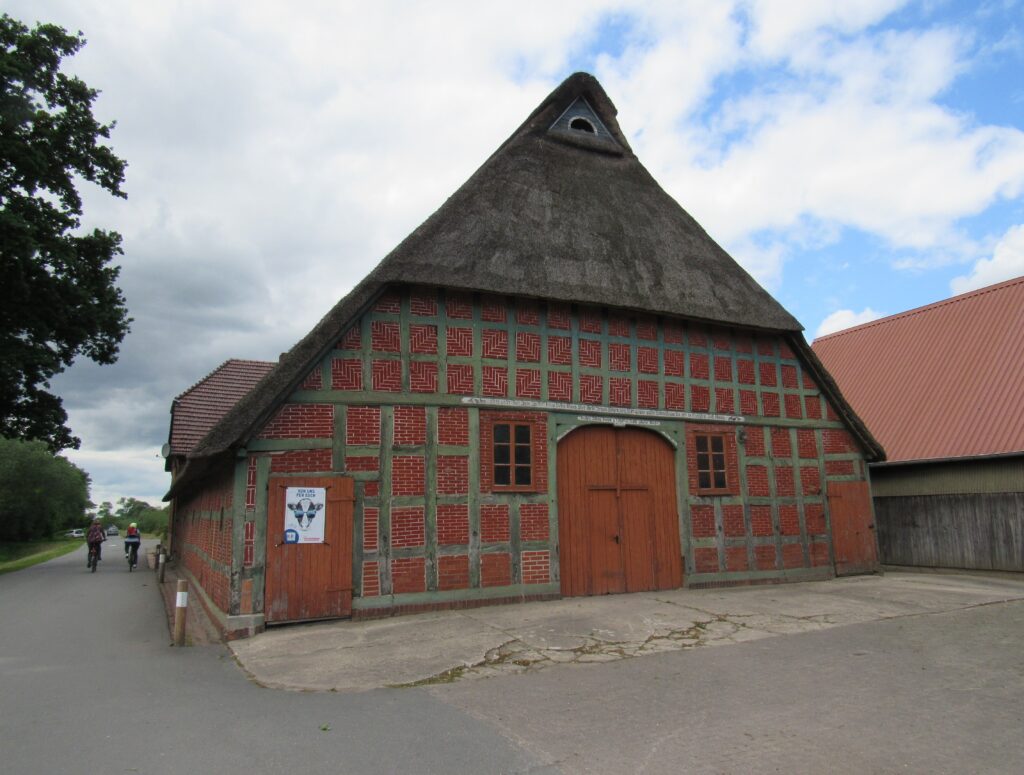 This is a little bit of what it was like.
Did I mention food yet? When we got home it was time to make a Dutch favourite, apple cake. The pictures might do the talking…
Back to our city ride, unless I realise I have missed something else. It is about a 30 minute ride into the centre of Bremen, easy cycling because a) it is flat with plenty of bike lanes and b) cyclists have right of way.
The centre is dominated by a big square surrounded by old buildings including a Protestant church that recently had its floor removed for an archeological dig. They found graves of bishops dating back hundreds of years and many of the artifacts are now on display in a fabulous museum. For the pendants, yes, they put the floor back…
This was the church Christa had attended, so while not getting special celestial access, she did have some local knowledge, including that you could climb to the top of the spire via a spiral staircase, so tight that passing people was a real squeeze and photos just didn't work. But we were high above Bremen, including above the bell.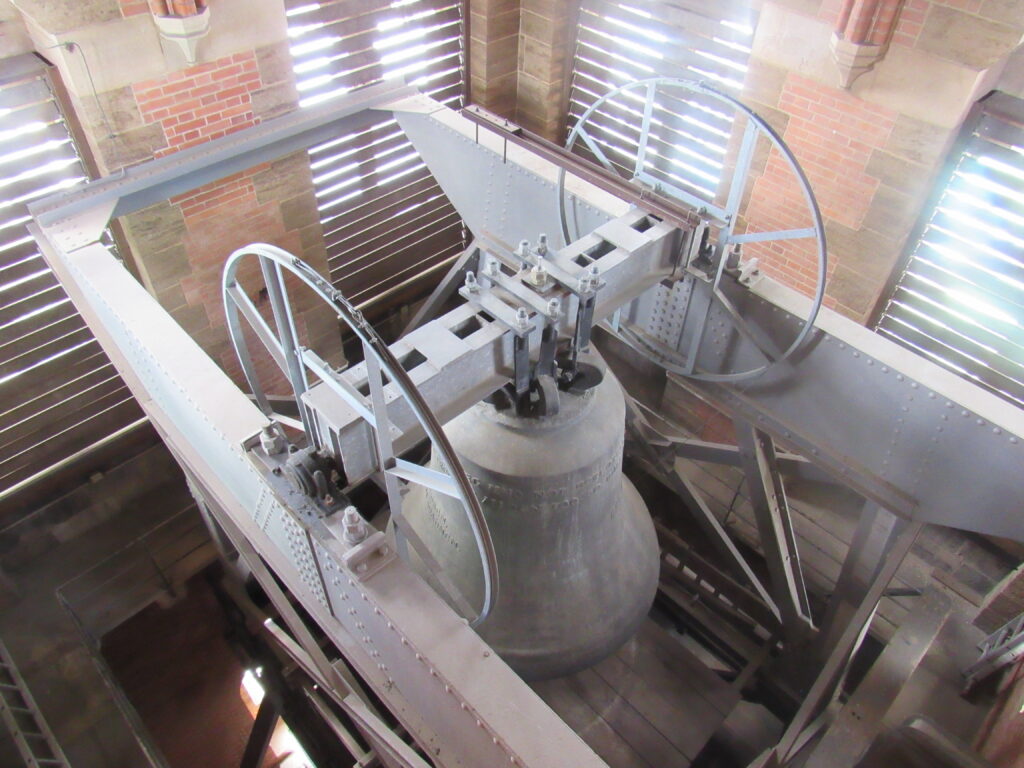 The old buildings are beautiful, if only we could remove the tourists (irony noted).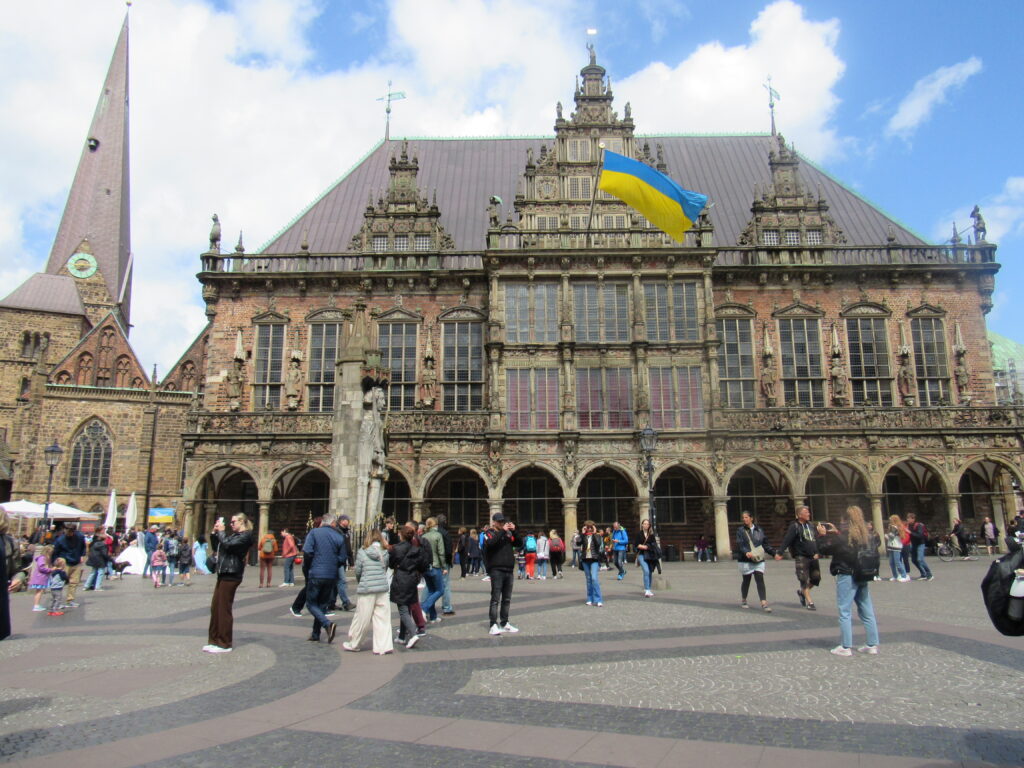 In case you were wondering, yes that is a Ukrainian flag, they are pretty much everywhere in Europe…except maybe Russia.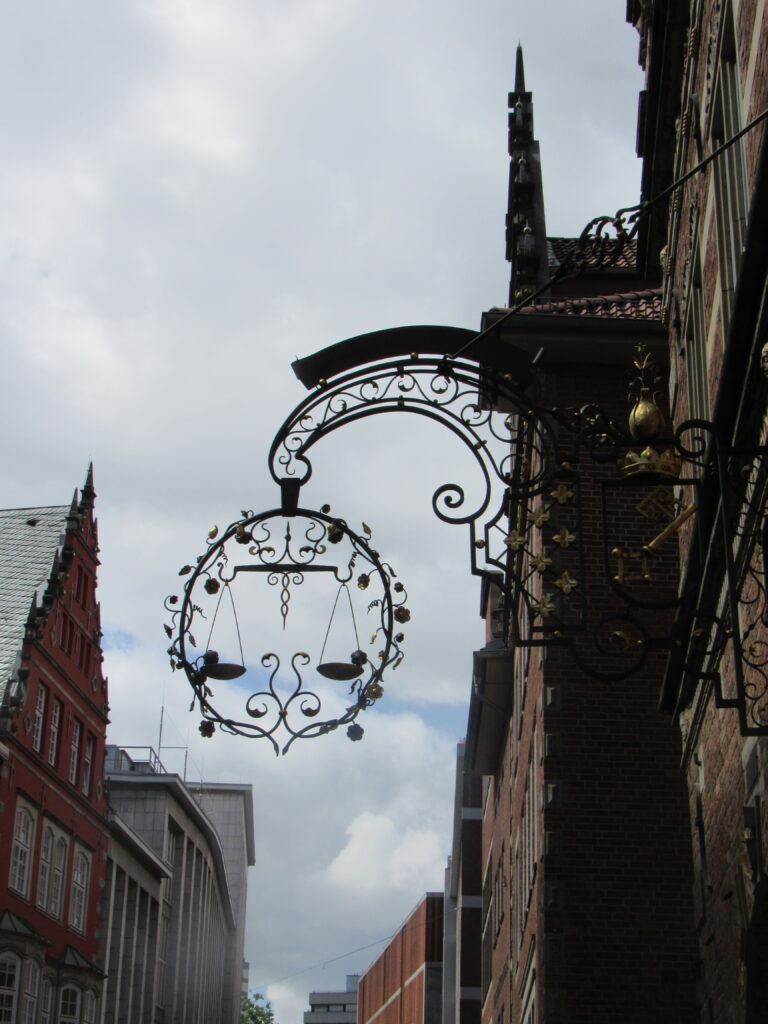 There is a fairy tale about some animals that stood on each other's back and pretended to be a monster to scare something away: I think I missed this one as a kid. But it is pretty popular here including being made into a statue.
Touching the legs brings you good luck…really…I did my research.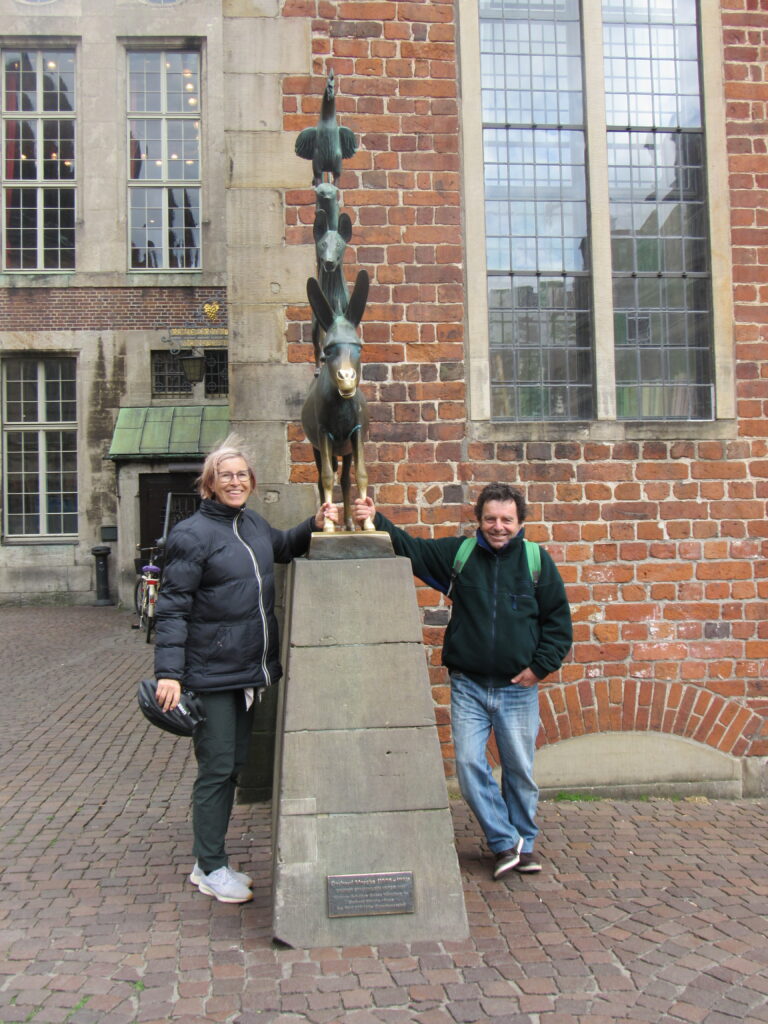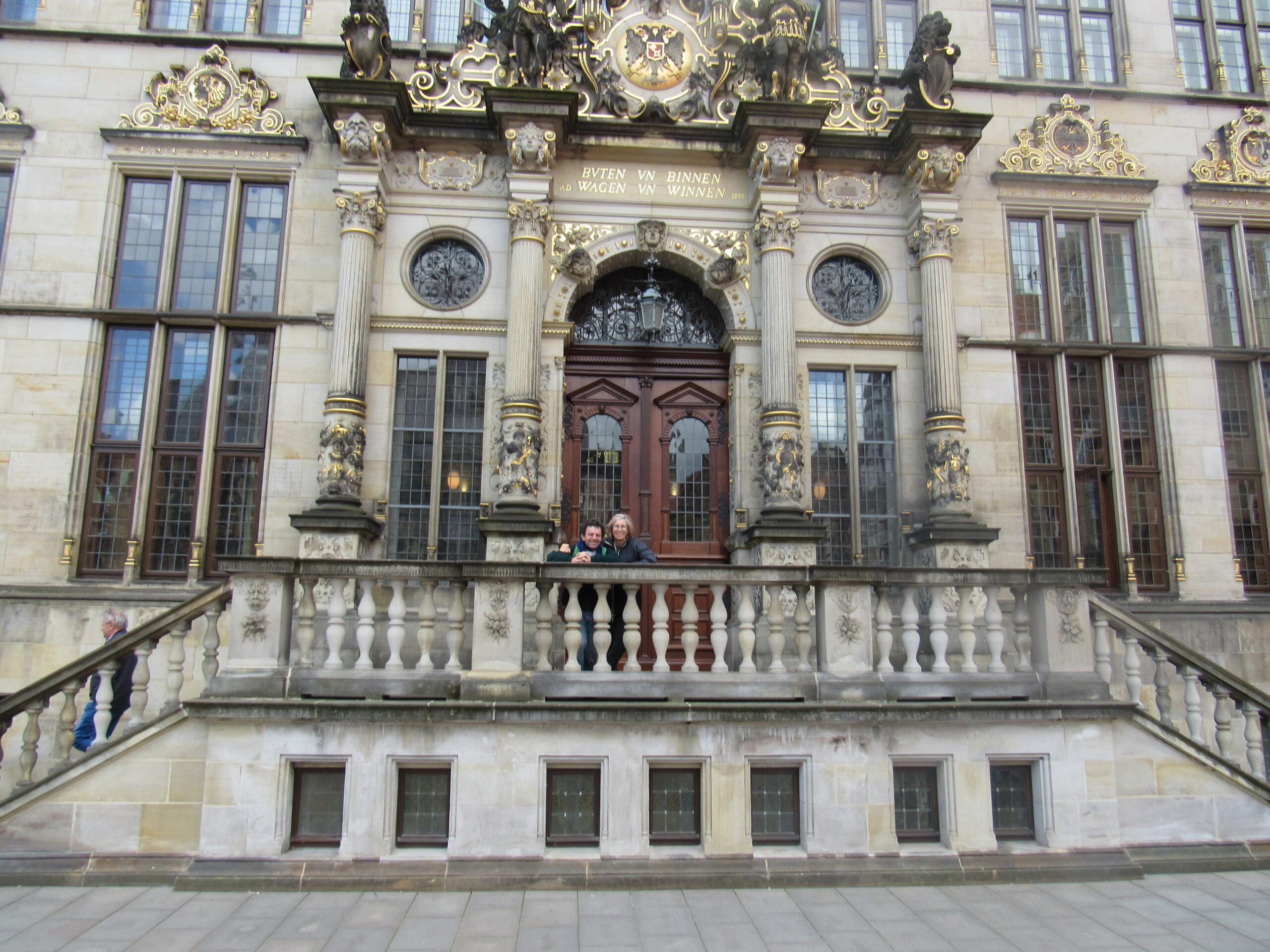 But not everything is old
Of course, McDonalds makes their own unique contribution to the beautification of this historic part of Bremen.
As if that wasn't enough for a day, we came home, made an excellent ratatouille and had dinner with more guests, then went for a drive (normally a bike ride, but it was raining on and off) to the rhododendron garden. Who knew there are so many different varieries.
First, a panorama that won't do the scene justice
Choose your favourite, I don't think there are any duplicates.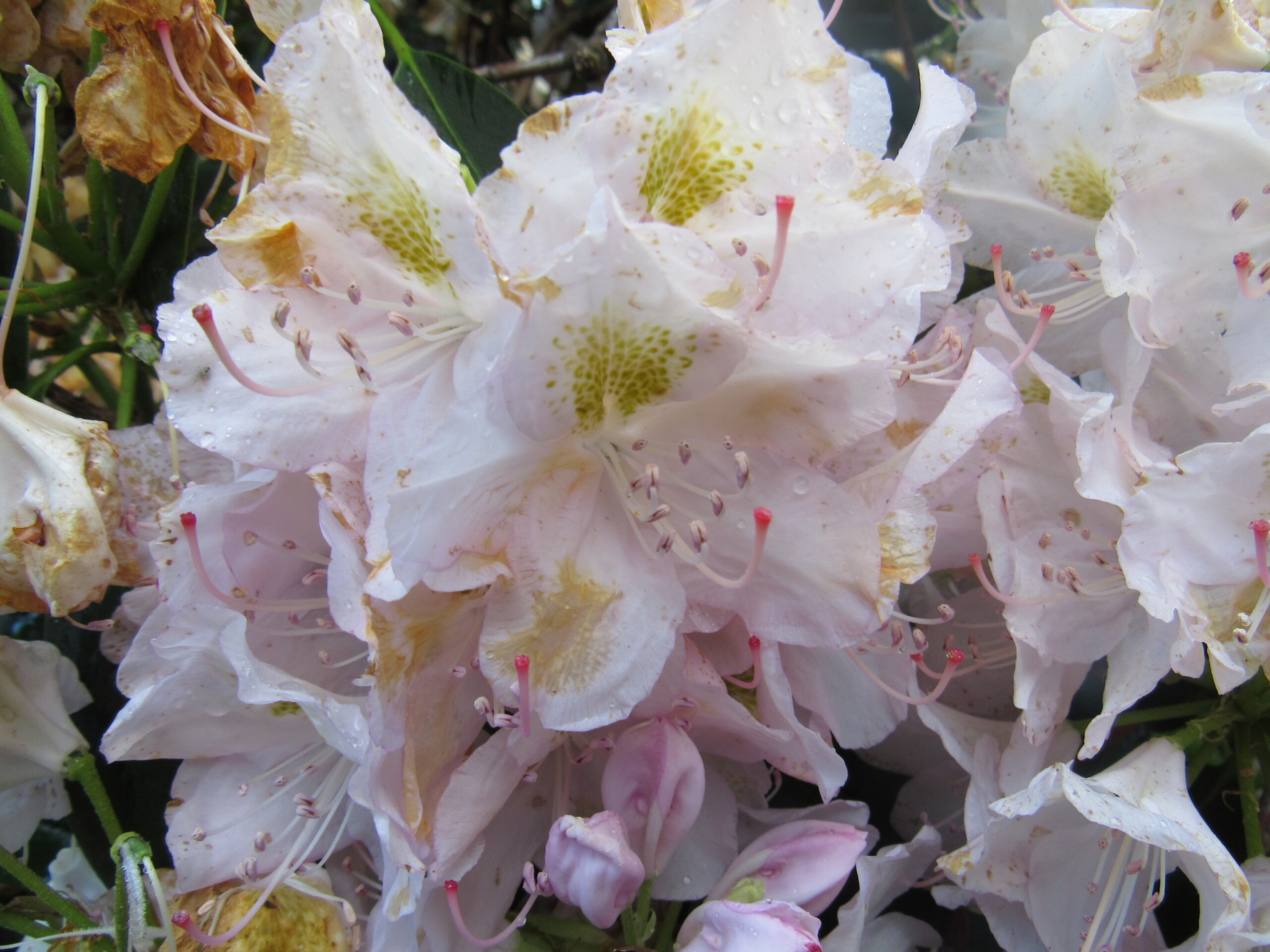 If the showers stop I will try to fix the front step and then we will no doubt tear some hair out trying to finish building this. Best to think of it as a 3D puzzle.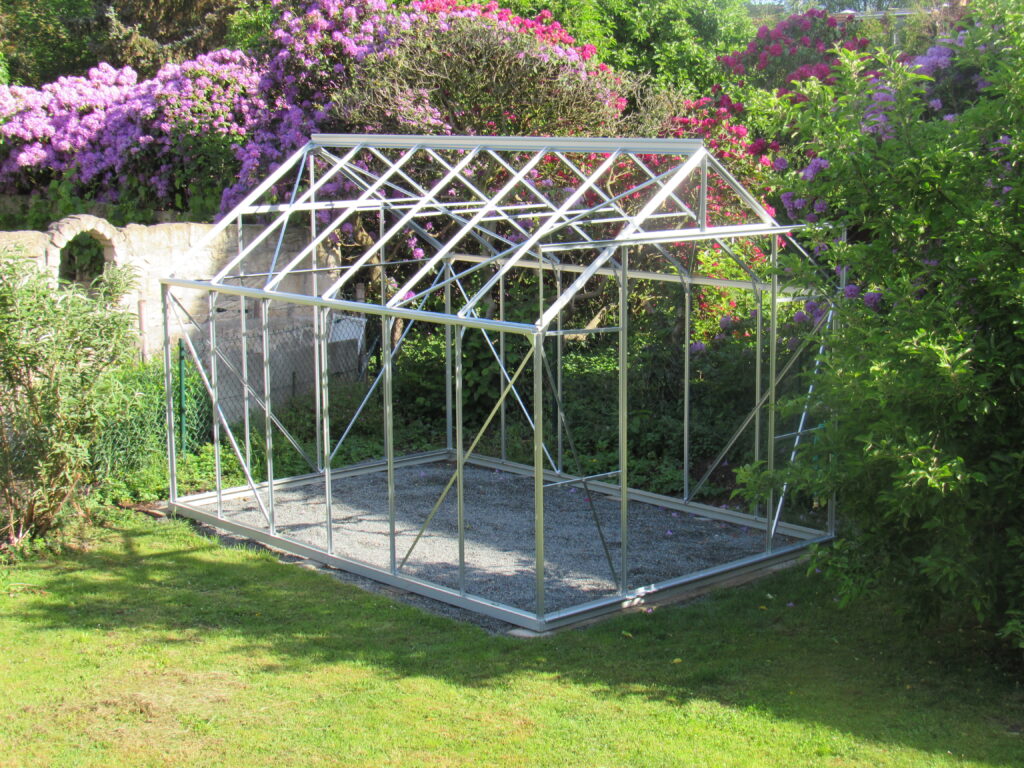 I was about to publish, when a friend of Helmut's arrived for a visit. Not being German and not being a soccer fan, I didn't recognise Marco Bode – https://en.m.wikipedia.rg/wiki/Marco_Bode. I don't think he was offended
I just learned some German – when goingze to der hardwaren, try notten to locken der keysen der caren.