Away we go at stupid o'clock out of the Gold Coast to Sydney. We have the day in Sydney before we leave for India via Kuala Lumpur and are going to be like tourists. Except we will be tourists who have a son and his partner living in town.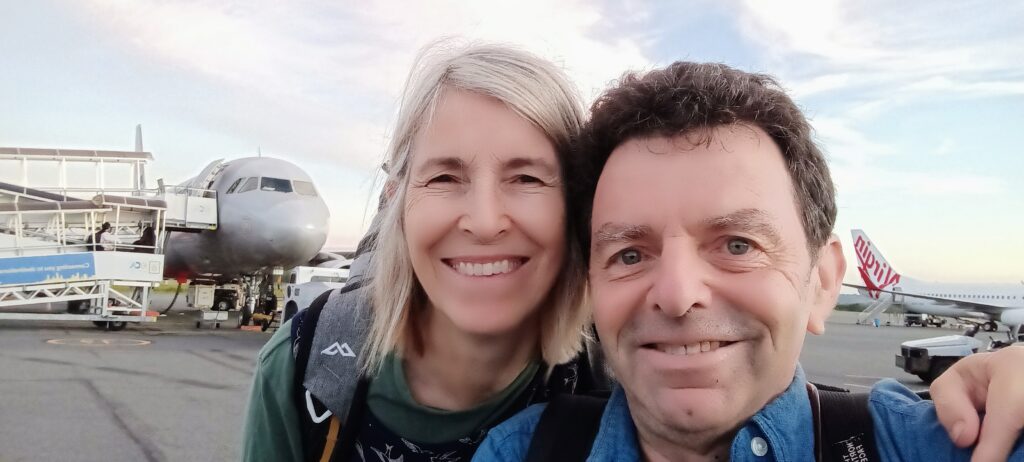 First thing to get out of the way is satiating the artistic hunger of Tall Girl so we head to the Art Gallery of NSW. It is the morning after the World Gay Pride event so there are a lot of colourful bleary eyed people around. There is also plenty of corporate rainbow washing with posters everywhere telling us how a variety of corporations support "the family you chose" or "loves equally" or whatever.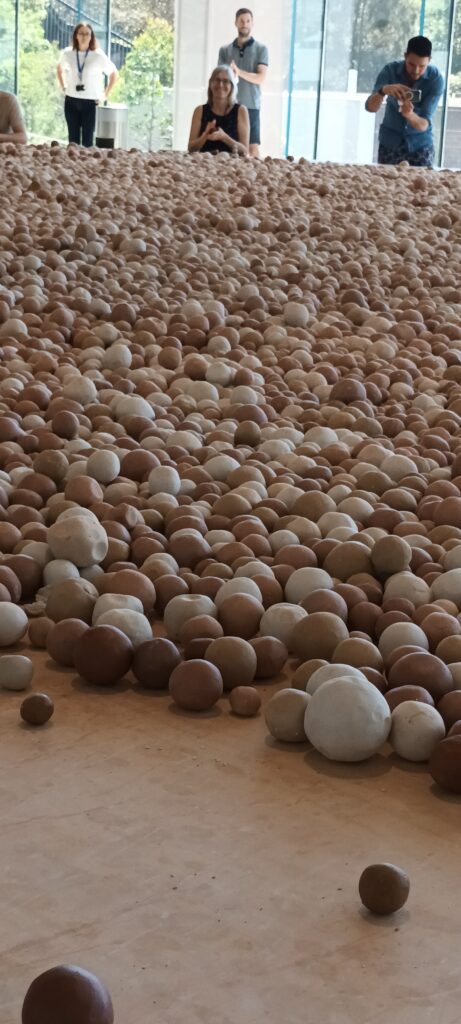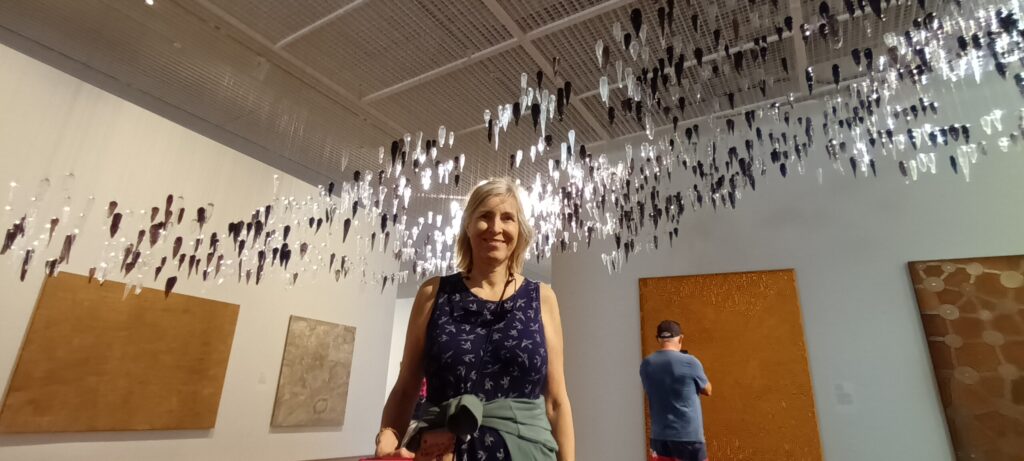 I am just realising how potentially long this post could be so to save us both time, I am going to leave out some of the detail, you can add it to suit your own narrative.
Ferry across to Manly with the other tourists, who likely don't have a child in Sydney to welcome them to Manly, and before we know it we do what any tourist does and go to the beach. Personally, I think beaches would be greatly improved if there was no sand or salt water, but some people seem to love it.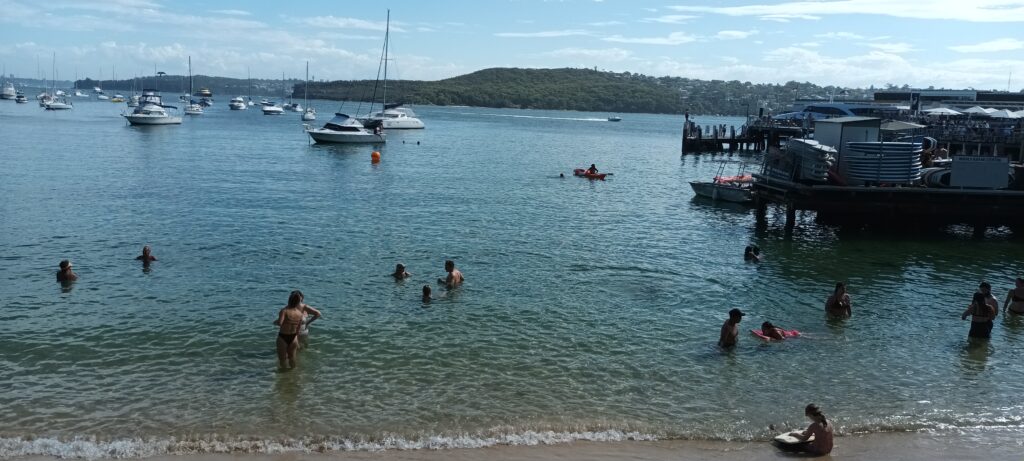 We head out to the airport and bloody hell, I am in shock. We get to the check-in counter where my international travel experience is long tedious waits, and there is not a single person in front of us!!! A woman (who it turns out is named Culika) is guiding people and I ask who the Air Asia supervisor is. It turns out to be her. We check in and broach the subject of the shit fight surrounding this trip. She is a great people person and I would have her on my front line any day. Culika was very helpful, mostly in the Indian sense of not actually doing much apart from promising to investigate our outstanding refund. As some sort of apology she gives us 3 seats each to stretch out. Sounds great, except that the plane was about 30% full and just about everyone had 3 seats. A token upgrade would have been nice, just saying.
Arriving in Kuala Lumpur at 0330 is everyone's idea of fun. Fortunately I had the foresight to book 12 hours in the capsule hotel for which I received much praise from Tall Girl.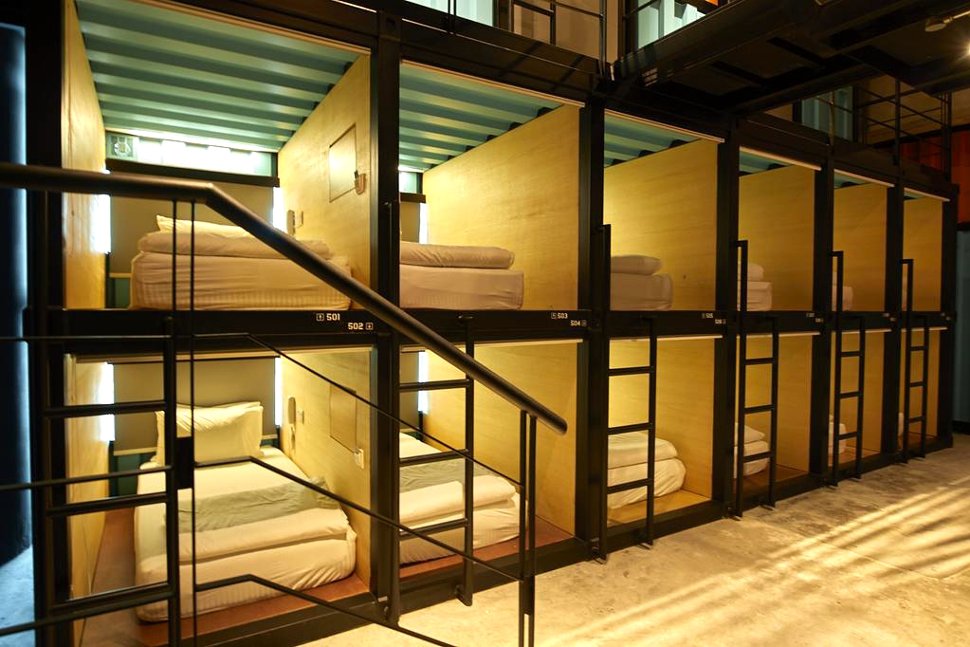 We collapsed into bed and woke quite refreshed. I have used this place a few times and can recommend it. Not the cheapest, but it is worth it if you need some sleep between flights.
0330 arrival, 2240 departure. Our plan was to go to Batu Caves, a quite amazing temple complex. We don't have a real lot of time by the time we have slept and eaten, so are a bit disappointed when we get to KL Sentral and the next train to the caves is over an hour away. Change of plans and we head into Pasar Seni, the local Chinatown – hmmm…how come most cities have a Chinatown but no Indiatown or Kenyatown?
I am keen to move on to India…you'll read why…so not much more about that.
It is only a 4 hour flight from Kuala Lumpur to Kolkata and Tall Girl spends pre-flight and flight time practicing her Hindi on real people rather than an app. I must say that I am impressed. She has been using Duo Lingo for 2 months and I have been gently mocking that it is teaching her things like "Does your grandfather live in America" and similar useful phrases. My standard line has been "If someone doesn't understand you in Hindi, I will ask them in English".
And here we are, Kolkata. Walking out of the airport we are immediately pounced on by a taxi driver who quotes R1150 to our hotel. Some fierce haggling got it down to R800 ($AUD16) which wasn't too bad for a wild ride into town. I had experienced Indian traffic often enough to know this was normal. Tall Girl was a bit freaked out by horns blaring, red lights being ignored, motor bikes being just avoided, etc.
Finally we get to Mahatma Ghandi Rd, or M.G. Rd as it is known. I just received a compliment, that I should mention my amazing skill at getting us to the hotel using Google maps. I'll accept that. The driver had no idea, despite saying he knew it of course. He kept stopping to look at hotels and alleys and I would say "keep going" until we arrived at the corner where the hotel is shown on the map.
It was about 1:30AM and took some hunting, but eventually I found a sign for the hotel. And then the serious haggling over the fare began. Maybe it's me, but I thought that we had agreed on a fare and suddenly he wanted more. My fault, I had R1,000, i.e. not exactly R800 and was expecting change, he was holding out for no change. Tall Girl and I stood our ground, paid what we said and now it is time to check in and sleep.
At the time of writing I was in damage control. The streets were filthy. The outside gate of the hotel building was locked, fortunately some bloke lurking in the street had a key.
Of course the lifts don't work so it is a 5 story grotty climb, past people sleeping on the floor. Another locked gate on the stairs exiting the 4th floor to the 5th floor hotel. A bit of shouting and someone comes and opens the gate and we are in.
The sheets are stained. The water is luke warm…and later stops completely.
Like many people who arrive in a big Indian city, Tall Girl is, in her words, "in mild shock and wondering if this what the trip is going to be like". Fearing that the whole thing was a mistake and the trip could go horribly wrong, I am on the defensive, worried that this trip will scar us forever.
Next morning we complain and they mention another hotel just up the road, the White House. This looks better. All the staff are wearing white shirts and black ties. It is clean and organised and directly on the street. But they don't have a room available right then. To cut a long story short, they find one and there is lots of banter in English and broken Hindi and we decide that hang the expense, we are going for a better class of hotel from here on.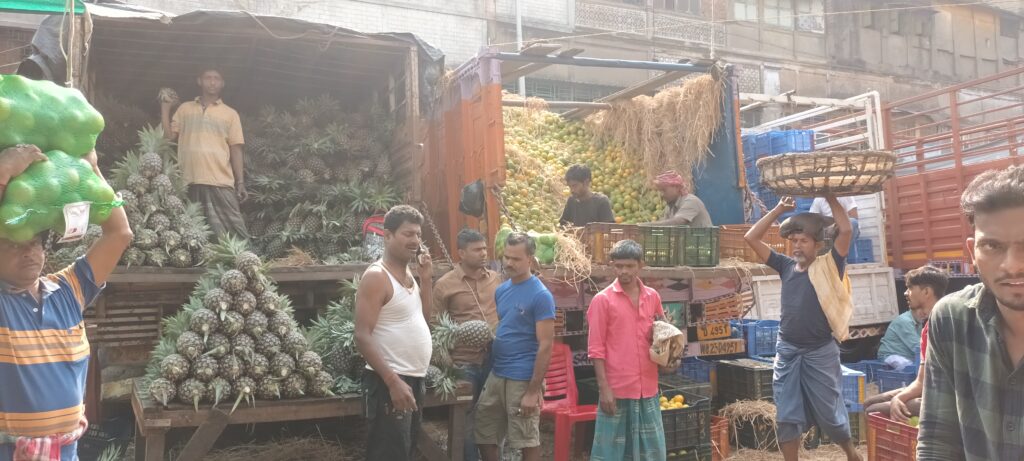 While we are waiting to see if we get a room we wander off and end up in what we think was a wholesale fruit market. Truck after truck of produce with people offloading onto big baskets that are then carried on the heads of poor buggers who carry heavy things on their heads.
We are trying to find any Pure Veg restaurant, i.e. they don't serve meat etc at all. We keep being pointed in various directions without much luck.
At this point I have to concede that after being right about a lot of things e.g. don't worry too much about the 7Kg weight for carry on (did I mention we are only taking carry-on?), I had to concede I was wrong…not many people speak English really.
But it was all fun and I was thoroughly enjoying getting back into the India I remember. Slowly Tall Girl is beginning to relax and get over her immersion shock. We get some street food, we receive puja at a small temple, buy our first souvenir (a wood printing block) and people watch.
Yes! We have a room at the White House on Mahatma Ghandi Rd, or M.G. Rd as it is known. It is close enough to a lot of things, including a mosque where the call to prayer is ringing out right now. It is perfect. Tall Girl's mood has improved markedly, especially after a lot of interacting in broken Hindi with the hotel manager while we were checking in.
We hear about an important Hindi temple and also some better intel on a veg restaurant and off we head for the day.
As I type this in the evening, it is hard to reconcile that everything since we took off from Kuala Lumpur has happened in less than the last 24 hours, and I am still nowhere near through our story. How to get it all down and keep it readable? It is worth reminding you, dear reader, that the primary purpose of this is as our "diary" of the trip and we love sharing that. So we do want to get the details, but also don't want to spend hours documenting them. Pictures…thousand words…
We find the restaurant, where Tall Girl naively expects to make a booking. It is early, but now we know it is the place to eat later, and conveniently it is right over the road from M.G. Rd train station. We catch a train to Kalighat, the location of a very important Hindu temple.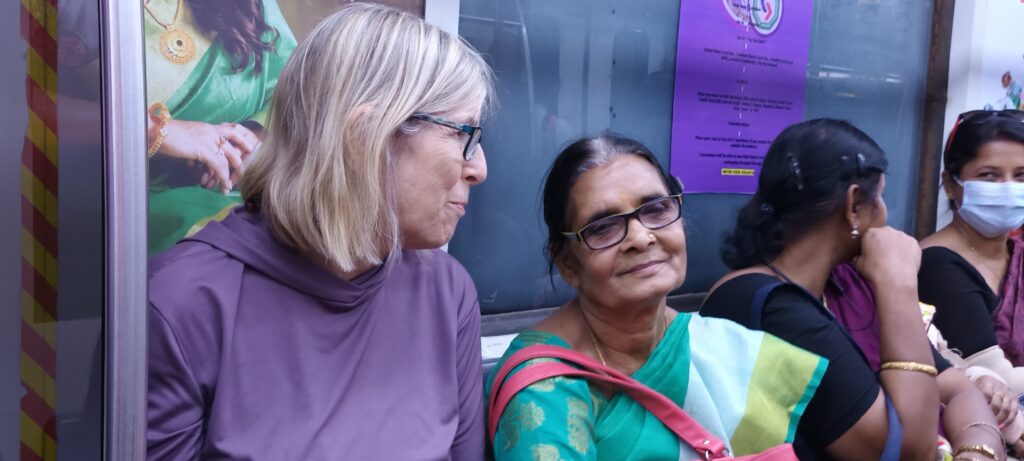 All along the way Tall Girl is trying out her Hindi and making friends with people. Where a few hours ago she was in shock, she is now having a ball and is on fire. One woman tells us that the temple is along a broken up road and she was right about that. I suggest to Tall Girl that if we come back in 12 months, not much will have changed. But after visiting the temple, there isn't much fear we will be back.
Just like we were pounced on by the taxi driver, as we arrive at the temple, we are pounced upon by someone claiming to be a temple priest. He even pointed out his white sarong and said he is Brahman (the priest caste) and let us know, as he started guiding us around, that guides aren't allowed at the temple.
Shoes are also not allowed at the temple and Tall Girl was a bit nervous about her new sandals. I have the opinion that shoes are respected, since everyone leaves them outside temples and there is little to worry about.
The temple is a bit of a disaster area. It is a mess, crowded, grotty, a construction site and there is no real path through the place. Our non guide led us around, very quickly, instructing us on how to do puja using the flowers we had bought. We are jolted back to reality when we get to a room where people are holding small goats and praying and un-guide explains that every morning goats are sacrificed right there. He explains it as though he expects us to find it interesting, as vegetarians we are not impressed. Tall Girl's impression of Hinduism has been a bit tarnished, given that Hindus are vegetarians.
I think that is the point where un-priest turned and it all kind of went downhill at the end when he expected us to pay him, via his friend, when we asked him to not even take us.
Back to M.G. Road and the restaurant where we had a date. One of my fellow Clown Doctors has retired and back in Brisbane there was a farewell dinner at an Indian restaurant. I had quietly arranged with one of the others to video call from an Indian restaurant.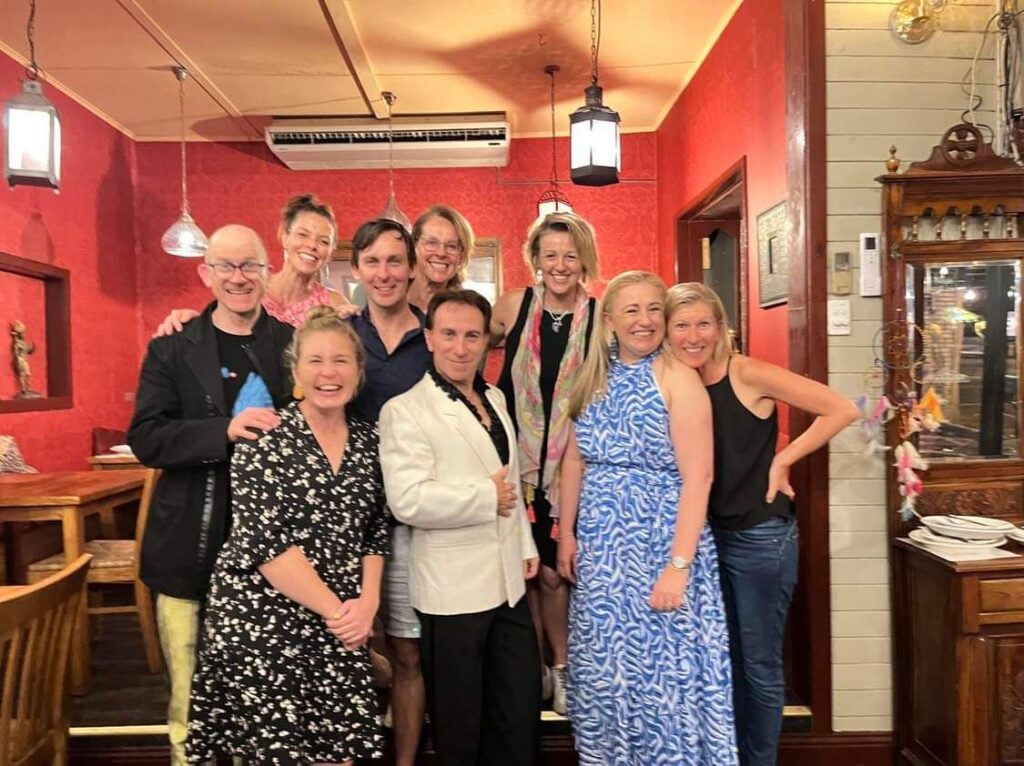 There was no wifi at the restaurant and we don't have SIM cards (yet, if at all) so I didn't think we would be able to call. But the tables in the restaurant were shared and our new fellow diners wanted to practice their English with Tall Girl wanting Hindi. I had an idea. Would they create a wifi hot spot so I could make a quick call? Of course. And then I had another idea. Instead of just calling one clown, I would do a group call to them all. And there we were, in a noisy Indian restaurant waving to people in a far away Indian restaurant. What fun. Missing you already Dr O'Dear.
As we were heading back to the White House (I do love saying that) we passed a "Gents Only" hair dresser and I suggested getting a shave for R40 (80c). Me, not her. Into the chair I plop and almost immediately Tall Girl is in full on banter mode with the bloke who seems like the owner and anyone else who would work with her broken Hindi or practice their broken English. It wasn't hard to upsell me to the R100 ($2) face massage and before we knew it, the first rule of the Gents Only hair dresser shop was broken as Tall Girl jumps into the chair for what was probably the young guy's first female face massage.
Too much fun indeed.
Back to the hotel and for some reason reception rang our room at least 5 times but they couldn't hear us or we couldn't hear them. We ended up taking the phone off the hook. They needed to get our address from our passports, failing to understand, despite being a hotel that likely deals with lots of them, that passports don't have an address in them. As an apology we get a fruit basket that includes 2 pomegranates, add that to the half papaya we bought and it is fruit heaven here.
And this is just day 1.