$AUD1 = 3 Ringgit = 50 Rupees = $US0.75c  Try to keep this in mind, I will generally talk in the local currency unless I need to convert for effect.

Location: Kuala Lumpur

Hotel: Container Capsule at airport.  Quite interesting. 80 Ringgit for 6 hours to catch up on sleep.  Built to look like shipping containers but it isn't really.  Just a bed in a compartment even I can't stand up in, but it is perfect.  If it was my holiday destination it would rate 1 star, but to freshen up it gets 4.5 stars – losing that last bit for having a noisy fan.
The trip has started wth a good omen – I have an empty row of seats on the flight fromGold Coast to Kuala Lumpur.  Yeah, it is only a 3 seat row, but that is plenty long enough for me to stretch out during the 8 hour flight.
I manage to get about 4 hours sleep 🙁
Into KL at 0400, how exciting!!!  And I am an international transfer so appear doomed to living hell, a day inside an airport. I know it is a first world problem and casually mention to someone behind an information desk that I am supposedly a privileged white male.
She immediately grasps the seriousness of the situation and suggests I can get a "pass out" from immigration if I already have my boarding pass.
Before I know it the time is 0530 and I am at KL Sentral station wondering a) what time it gets light (0700) and b) what time the city wakes up – coincidentally it is 0700 as well.
The first train to Batu Caves (thanks for the idea uncle Ron) is too nervous to appear until first light so I kill 90 minutes in another kind of living hell, a railway station.  This has the dubious attraction of a guy in camo walking around blowing a whistle periodically.  I look for a ball game of some sort and realise that the game is "don't you dare fall asleep suckers", played with homeless people and other travellers.
Batu Caves is actually pretty cool.  A limestone outcrop full of some huge caves dropped in the middle of suburbia.  Hmmm…since caves are open space can something be full of them?  Let the debate begin.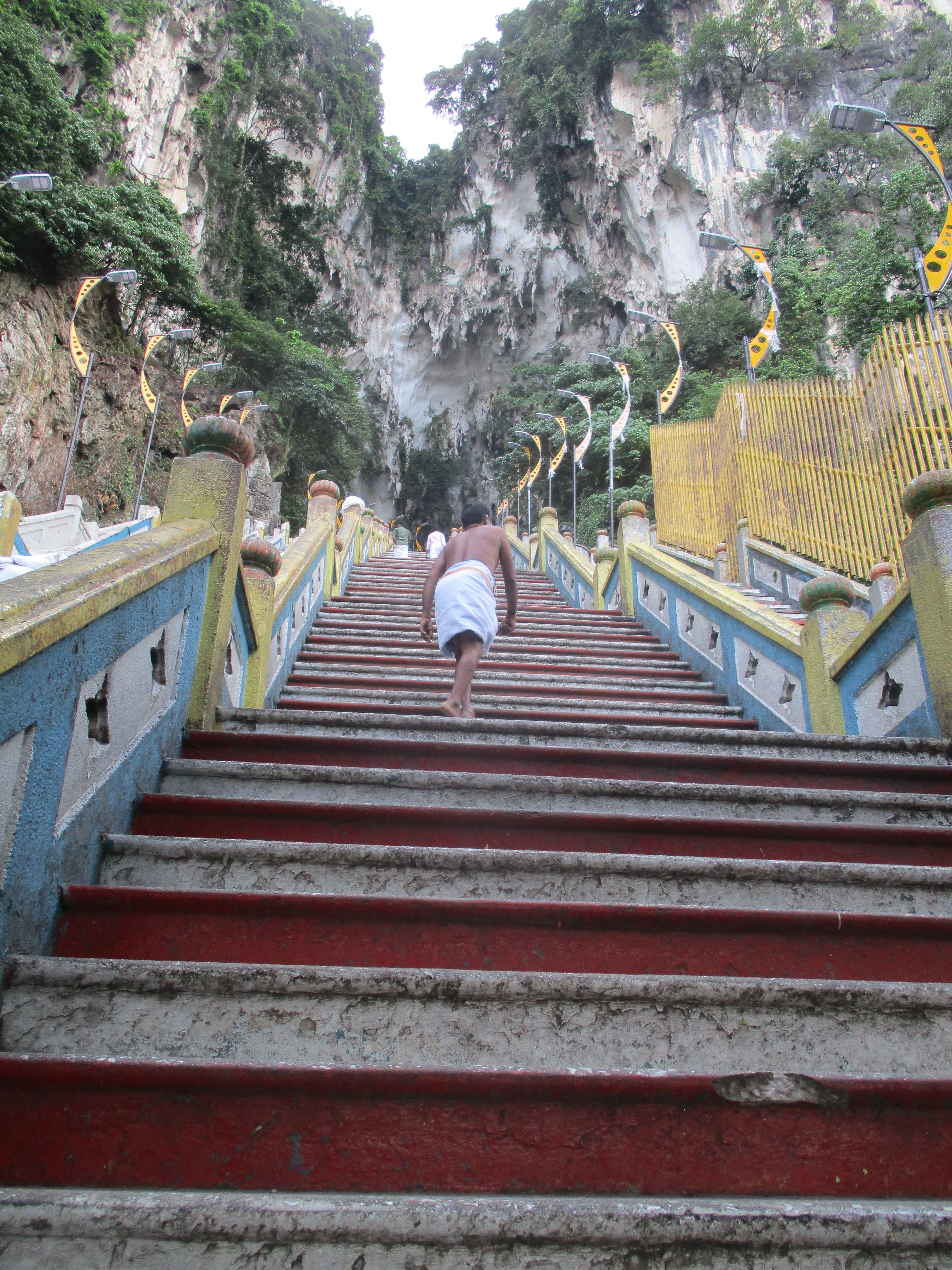 The place has many temples in and around it.  it is obvious how, like Uluhru, such things had (have?) mystical significance.  The biggest cave is the only one you don't have to pay to get into, which means it is the only one open at 0730.
My guess is that they tried taking money off people but after the climb they were too exhausted to pay.  It is steep!!!  But it is worth the effort to see how ongoing renovation works can nudge something that is quite outstanding to being quite a mess.
I am there for morning puja, a drummer and someone playing a long instrument that likely has a name but can best be described as a metal oboe but with holes rather than whatever those mechanical things are.  In the West drum machines have taken their toll on drummers, here there is no harmonium player, instead there is a cassette player playing a drone – cassette player!  The acoustics in the cave are awesome enough to overlook this.
Despite all the work going on the place is really interesting, plenty of gods to pray to if you are so inclined.  I was watching a ritual and the holy man came over and put a white tilak mark on my forehead.  Astonishingly, I wasn't expected to make a donation (I don't think).
One good thing about being so early was that the tourist busses didn't start arriving until about 0930 – I think the place gets crazy during the day.
Body clock completely wonky, I think I am hungry and right opposite was a Hindu restaurant. These places are great because Hindus are vegetarian so no trying to figure what to eat.
My first meal is a dhosa with 2 glasses of sugar cane juice for 10 Ringgit ($3).  It was a religious experience.