Since my last post I have had several more pieces of advice offered both verbally, by email and on Facebook.  A couple of them have actually been good ideas and will be taken on board.  Thanks for all of it, it is better to have too much info, including some that you don't need than to wish someone had suggested something like pre-register to book on Indian trains (which I have now done) and they hadn't.
It is time to give a bit of a picture to the trip and here it is…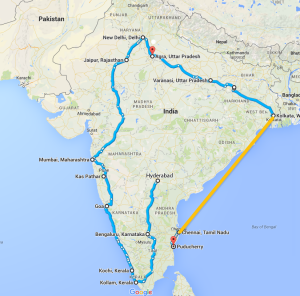 Click to view full size
I pretty much explained the rather loose plan here and I keep hearing about cool things to do and see along the route.  Please feel free to add more in the comments, all ideas considered.
Why arrive in Hyderabad?  With a fare of only $330 or so it was pretty hard to resist.
It is interesting to note how the to-do list keeps getting longer at the same time as the amount of time left is getting shorter.
But at least I managed to finish Breaking Bad before I left.
The top image was taken by my son Taj.  It is quite intriguing and when you realise the secret it will make sense.