To plan or not to plan.  I like the idea of making up as I go along and the plan was to not plan.  Fortunately I have some smart friends and Dave reminded me that planning can be much of the fun.
So I changed my plan and I now have a plan.
I arrive in Hyderabad, then head down through Bangalore and west to Kollam.  Jump on a ferry for a 2 day trip to Cochin then up to Mumbai especially for Ganesh Chaturthi.
It is a 10 day festival that culminates in the statues of Ganesh being immersed in water, in Mumbai that is the ocean.  This year it ends on September 27, so perfect timing.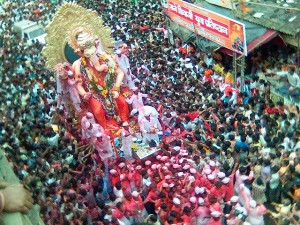 The idol in the photo apparently attracts 1.5 million visitors per day.  Seeing that shouldn't be a challenge.
Then up through Rajasthan reaching Delhi about October 12 to meet The Sheila.  The standard of travel and accommodation will then be lifted as we head East to the Taj Mahal, Varanasi, Bodh Gaya and Kolkata.
A flight down to Chennai for a few days visiting Puducherry and a silk and sari producing village I read about.
Then 3 nights in KL on the way home.
Well, that's the plan anyway.