Carry on luggage only.
That has been the other plan since the start and it should be doable.  I can always buy clothes if I need more.
Someone came around for a meeting today and he offered dire warnings about getting sick.  In fact every single book, website, person and pharmaceutical company rep guarantees that you will get sick in India. I am ready.  But that is for another post.
As he was leaving I pointed out the pile of things I have laid out in preparation.
Let me rephrase that.  I pointed out the pitiful pile of things…  I confess to being kind of shocked at how little there is…so far.  But I am sticking with the plan, less than 7kg and just carry on.
I have an image of reducing the weight of my too heavy pack by wearing every item of clothing, including my sleeping sheet thingy wrapped around me like a very butch sari.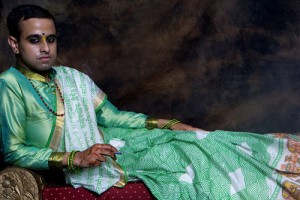 That should get me an empty seat on either side.