In 1974 I hitch-hiked across Canada to the Montreal Olympics and then over the next many months I made my way back and forth across the USA.
One afternoon in Arizona I was standing by the road and a car load of Native Americans slowed as they drove past and I can still remember hoping they weren't stopping for me, after all I had my preconceived stereotype of them and I'll be honest and admit that at a younger age, it wasn't flattering.
As we drove along they asked if I wanted to hear some singing and I thought they meant the radio.  "Sure" says I and they start singing some traditional songs and explain them to me.  I was invited to come and stay at their house and being a bit nervous about something or another I declined with an excuse about having to keep moving.
I have regretted that ever since.  It might have turned out to be a most wonderful experience, but I will never know.
With that in mind on this trip I am planning to say "yes" to every opportunity.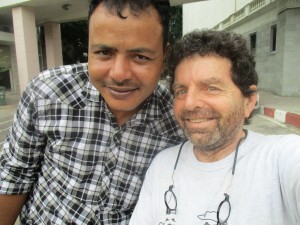 Ashok, my host is in the travel industry so arranged for a car and driver for the day.  Meet Azim who spoke just enough English that we could understand each other.  He took me to a some of the tourist sights in Hyderabad and at one point, I was kind of ready to head home and he suggested a temple and I declined, then remembered and changed my mind and said "yes".
Cameras were not allowed unfortunately as it was a beautiful place made of white marble overlooking the city.  Lots of idols and carvings of gods. I got talking to a priest who spoke a little English and was given some holy water to drink.  So far I don't think it has worked, but it was great being included in what all the worshipers were doing.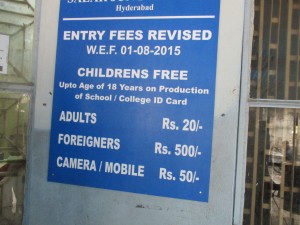 To the museum, where they have refined the "let's charge the rich foreign tourist a bit more" rort and taken it to the extreme.  Entry is Rs 20 for locals and a bit of a premium for me at Rs 500 and for that I still had to pay extra to take photos (not an uncommon additional fee).
There was a lot to see but the highlight is a statue called Veiled Rebecca.  I had to spend quite a bit of time looking from different angles to be certain that it was carved and didn't have a material veil placed over it.  I have never seen anything quite like the way the sculptor has somehow made marble look transparent.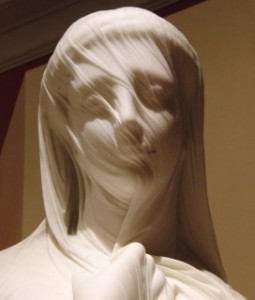 On to Charminar.  You are going to have to do your own research on these places, it is worth it.  While the traffic has been hilariously incredible, the area around this monument is that image of India that you have seen so often.
The photo doesn't do any of it justice, the crowds, the traffic, the shops, the structure itself.  In fact because we were a little pressed for time today and didn't have long, I am going to head back there tomorrow by bus to spend a few hours just hanging out.
When you are in Hyderabad I highly recommend you eat at the Amat Hotel.  We ate there last night and then by coincidence that Amiz stopped there for lunch today…well, maybe not a coincidence since it is popular.  When a meal costs Rs 200  ($4.50) I generally don't think there is going to be a lot of it…but I was very wrong.
There are actually 2 rotis on my plate, it was overwhelming to just look at.  Then half way through the meal Vani and I both spotted a waiter walking towards us with a huge bucket of rice and we must have thought the same thing, that he was bringing it to us.  As he walked past we both collapsed laughing at just the thought of it being delivered to us.  There has been a lot of laughing.
Have you noticed the lack of cutlery.  Yep, eating with your hand (right hand only) is how you do it.  A pile of rice in the middle of your plate, take one or more of the accompanying dishes, massage it together and with a little practice and some instructions on etiquette it becomes second nature.
And I haven't even touched on our visit to the Sound and Light Spectacular at Golconda Fort before dinner.  I am fitting so much into a day it is hard to believe that was last night…seems like a week ago already.
And to cap it off, Facebook was all abuzz with the long awaited ousting of Abbott.   YES!