Location: Delhi
Hotel: Suncourt Yatri, not to be confused with nearby hotels Sunstar Heights, Sunstar Heritage, Sunstar Grand, Sunstar Karol Marg and other similarly "Sun" named but in no way related hotels.
India time is 4.5 hrs behind Australia which makes for interesting initial adjustment and coordination communicating with home.  Especially when on arrival there are a couple of minor home dramas to attempt to sort from not-home.
Wide awake at 5AM (9:30 by my body) so we're Tiff and Dawne so we headed out for a walk and explore.  Within minutes we heard music and chanting in the distance and a small crown parading behind a mobile temple appeared.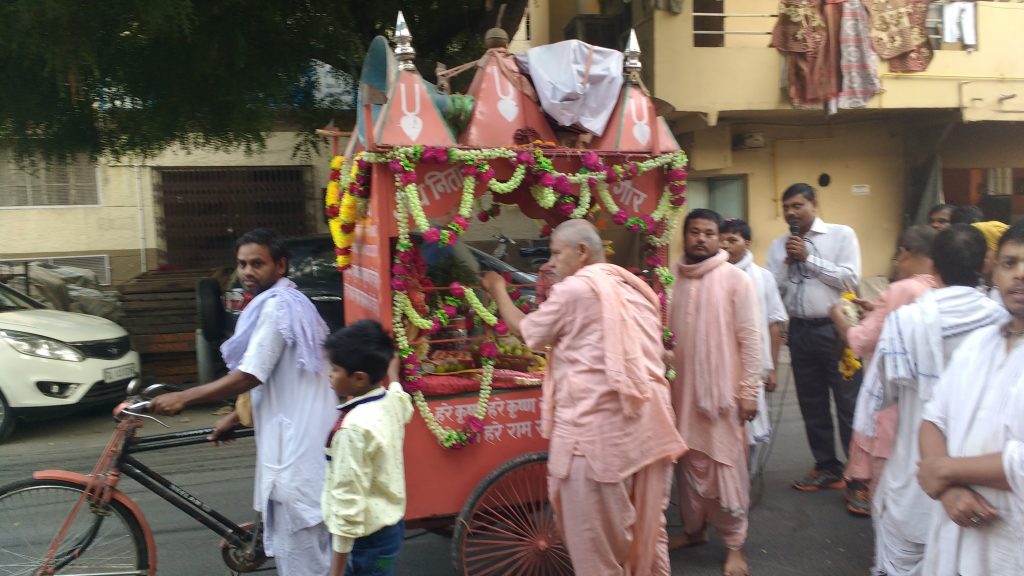 Out of consideration for our early/late morning they stopped outside a house, we didn't have to chase them.  Some chanting over a quite loud PA, some Puja, and it turned out they were here to bless the house.  It was OK to go inside with the crowd, but there were too many people to see what was going on in the room where it was all happening.  Friendly people explained what it was all about and we walked away with bananas and sweets plus a great start to India.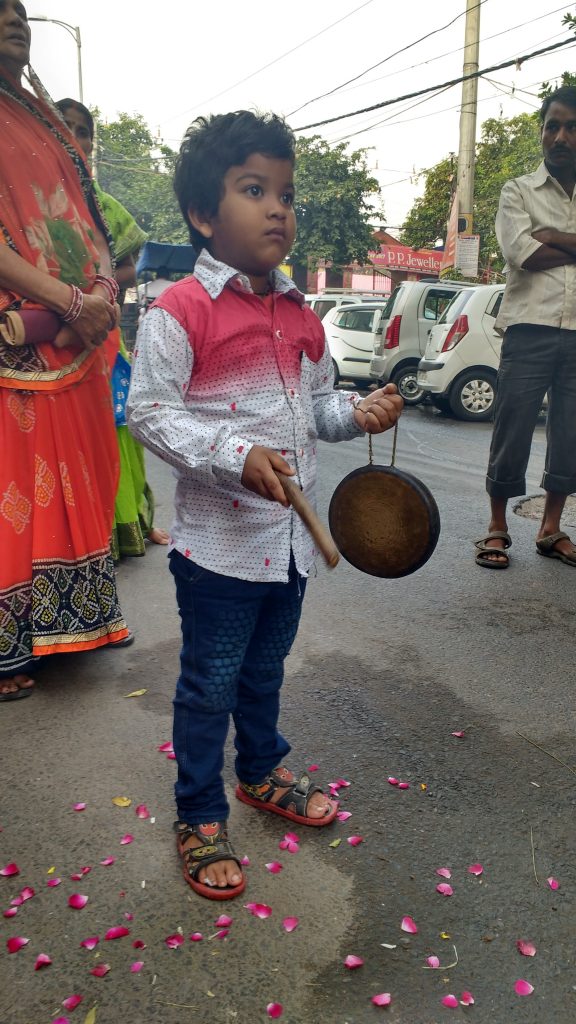 An ATM mission and now I am cashed up and ready to charge my SIM card, but it wasn't as easy as I expected.  The guy didn't seem to know what he was doing so I'll find another shop today.
The attention from tuk tuk drivers is constant.  One bloke came up to us, all smiles and friendly and good English, he said his name is Lala.  Seemed like a smiling friendly guy so we arranged to meet him at 1000hrs so he could drive us to Old Delhi.
Of course he arrived at 0900hrs, all smiles and very friendly.  He didn't want to name a price, just "whatever you put in my pocket" which should have been (it actually was) a warning that this was a little weird.  But we decided to do it anyway knowing the price was about 150R ($3).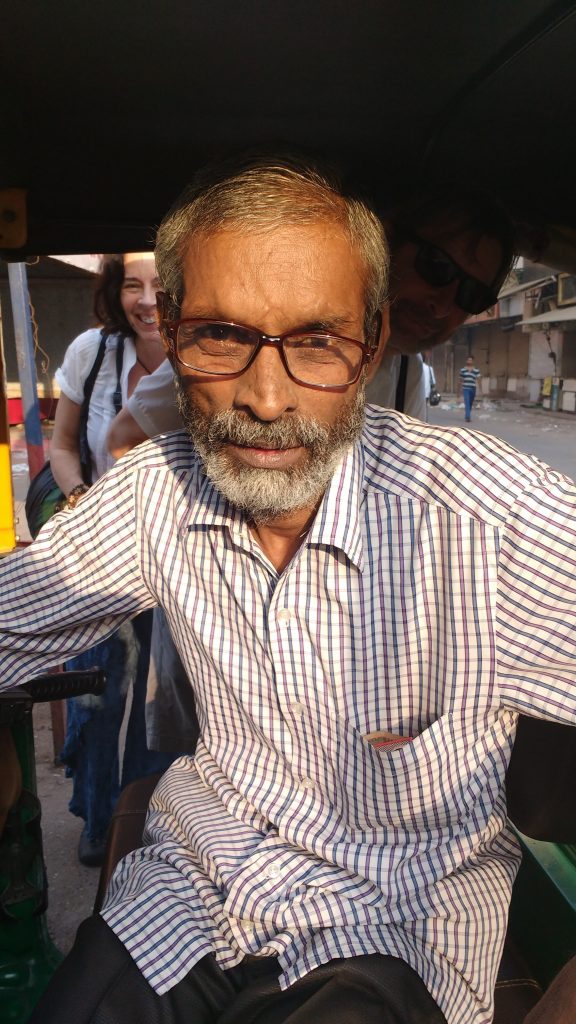 Lala wanted to stop in an emporium on the way, this is where he makes his real Rupees, even if we don't buy anything.  Actually he wanted to stop at 2 or 3 emporiums on the way.
The first one was a rabbit warren of small stalls in a single building.  Some of their stuff wasn't bad, but what a tourist trap ripoff.  Given we had previous India travellers before we had a sense of prices and they were about 5 times more expensive on average.  A smallish carpet that I would expect to pay maybe 2,500R was 30,000R. Maybe I was missing a subtlety that it was 100% genuine silk or whatever, but everything was way overpriced.
We were ready to get going and smiling, friendly Lala said "two more emporiums" and we said "no".  Suddenly Lala turned…he wasn't smiling or friendly any more.  It was a remarkable transformation where we seemed to suddenly become a huge disappointment :o) We got to Old Delhi for a reasonable price and a lesson was learned, hopefully by Lala as well.
The girls and boys headed in different directions with plans to meet at the Gurudwara Sis Ganj temple.  We headed to the Red fort for some culture and a failed attempt to get onto the set of a movie being shot out the front.  Even pointing out that we are handsome Australian actors didn't help.
One frustrating problem solved.  In future, before I leave, when I take my camera charger out to recharge the spare battery I will put a note on my bag so I don't leave it at home, charging.  Every time I thought about it I  would mentally kick myself up the arse. Managed to buy another charger that will never be used again once I get home…sigh…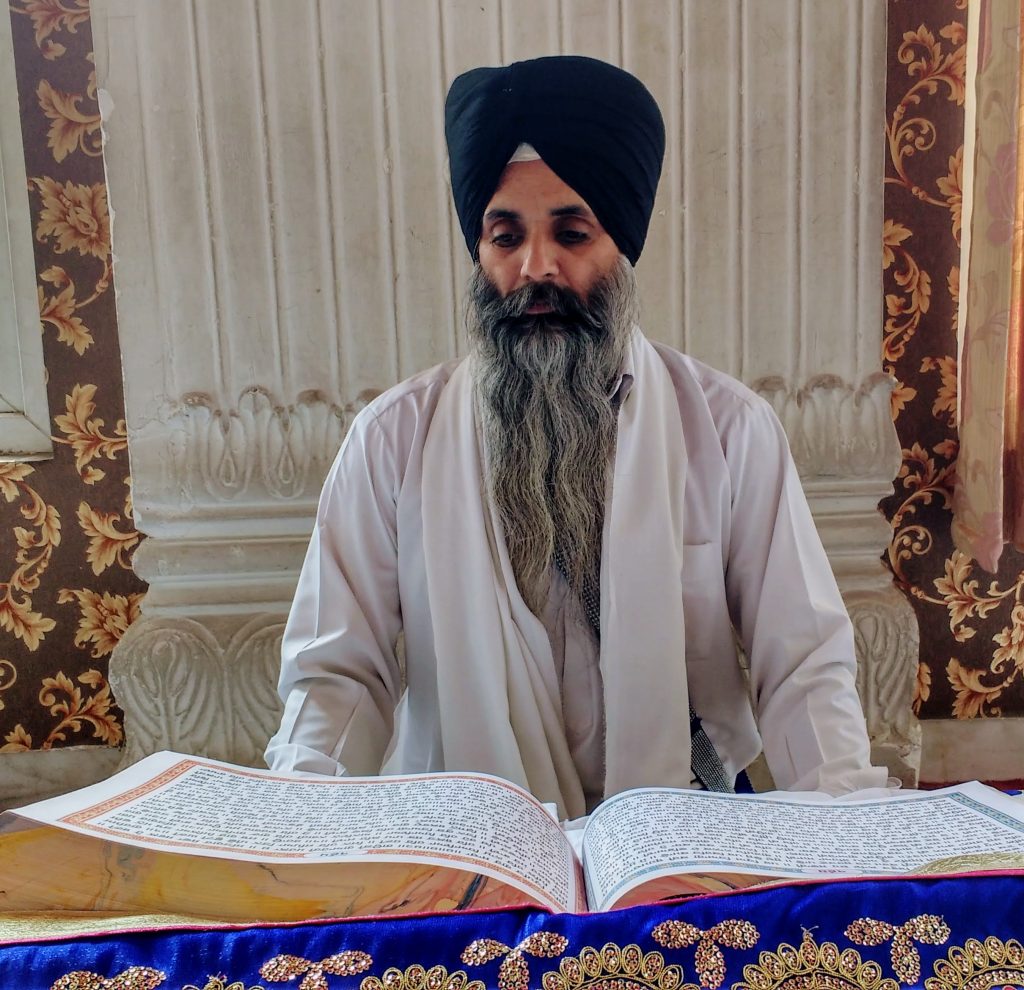 The Gurudwara Sis Ganj temple is one of the holiest Sikh sites, built on the location where the 9th guru of Sikhs, Sri Guru Tegh Bahadur Ji was martyred…or as we would say, murdered.
I posted about it last time and was looking forward to sharing the experience.  I wasn't disappointed.
We started in the temple proper, sitting, wandering and watching.  It is a fascinating place.  As an atheist, I find the depth of people's devotion quite intriguing.  They prostrate themselves, kiss walls and doors of the altars and simply touch an icon.  It is also a little bewildering, but such experiences is why India.
We spent a lot of time upstairs where you can overlook the temple proper.  The gallery is surrounded by small reading room where people study the holy texts.  I was surprised to see a woman in one of the rooms.  It is incredibly visually rich and awesome photo opportunities, but at the same time is quite intimidating. Not understanding the culture, taking photos seems intrusive and inappropriate.
The attendants are friendly and helpful, unlike Lala, they are genuinely friendly and helpful.  They explained what was going on and that it was fine to take photos.  It still felt weird and intrusive, but hey, that is my stuff.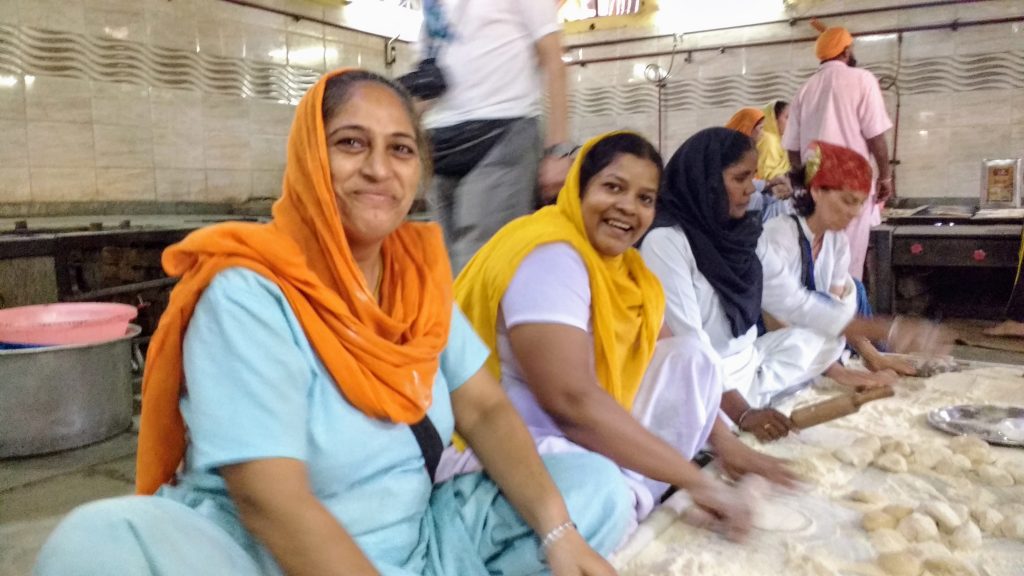 All of the workers are volunteers or have devoted their life to the temple.  The production of thousands of meals a day is well organised with many hands involved.  Including us.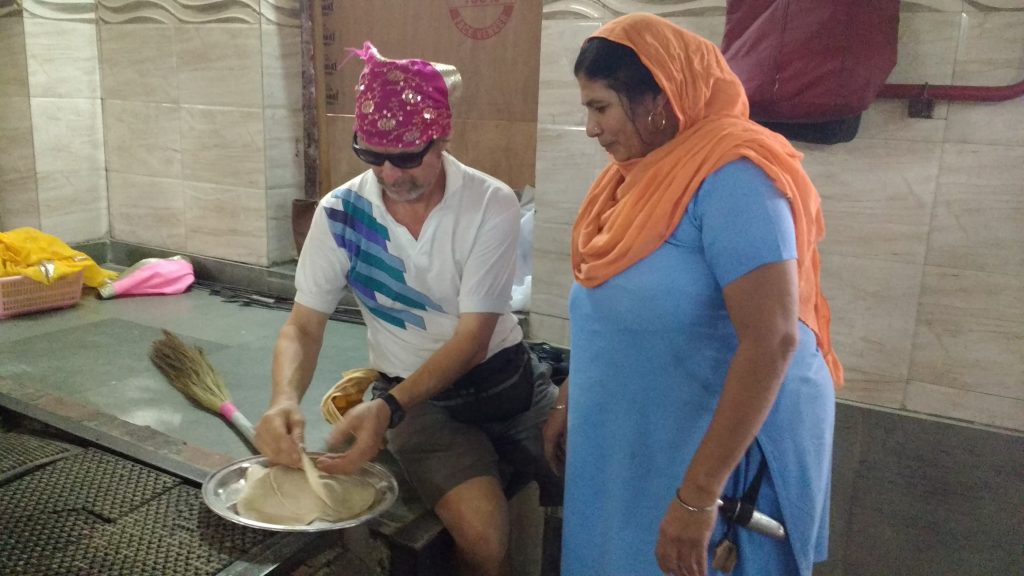 Tiff threw rotis onto the hot plate, quickly mastering the art of tossing them like a frisbee and not having them land on top of each other.  Dawne didn't quite get her rotis rolled as round as the experts, but gave it a good shot.  I dished out dhal from a bucket to rows of appreciative if slightly bemused people.
And the food was great!
Into the old market.  I recognised the stall where I took one of my favourite photos of Sheila in 2015.
It isn't quite as romantic in the recreation
The trip back to our hotel involved walking through a market to get to a road and grab a til tuk.  Tomorrow is Diwali, so it was crowded.  very crowded.  We walked and walked and walked and the market went on and on.  Craziness indeed.
Four of us for dinner, 5 yummo dishes, 5 naan breads, 3 bottles of water came to 800R, around $4 each.  Then back to the hotel roof which saw Tiff almost decapitated as a rocket shot past his head as we were looking over the edge at the kids setting them off.  A flash of green passed less than 300mm from him and then exploded just above us.  The next one exploded as it was falling back towards me.  It was too funny and the only remedy was beer.
And next time you grumble about your tedious job, re!ember you could be employed as an official nut separator.
Today, train to Jaipur.