Date: 21 October 2017
Location: en route to Bundi
Hotel: Shivam
The idea of an organised tour gives me the willies.  I understand that it is exactly what some people want but being locked into strict schedules isn't for me.  You are welcome to make me wrong and use the comments to go into bat for organised tours.
Having said that, and having done one during my last visit, we were off on a 3 day/2 night trip to Udaipur with Ajeet from Hathroi Palace Hotel.  Last time was awesome and I was fairly sure we wouldn't be disappointed.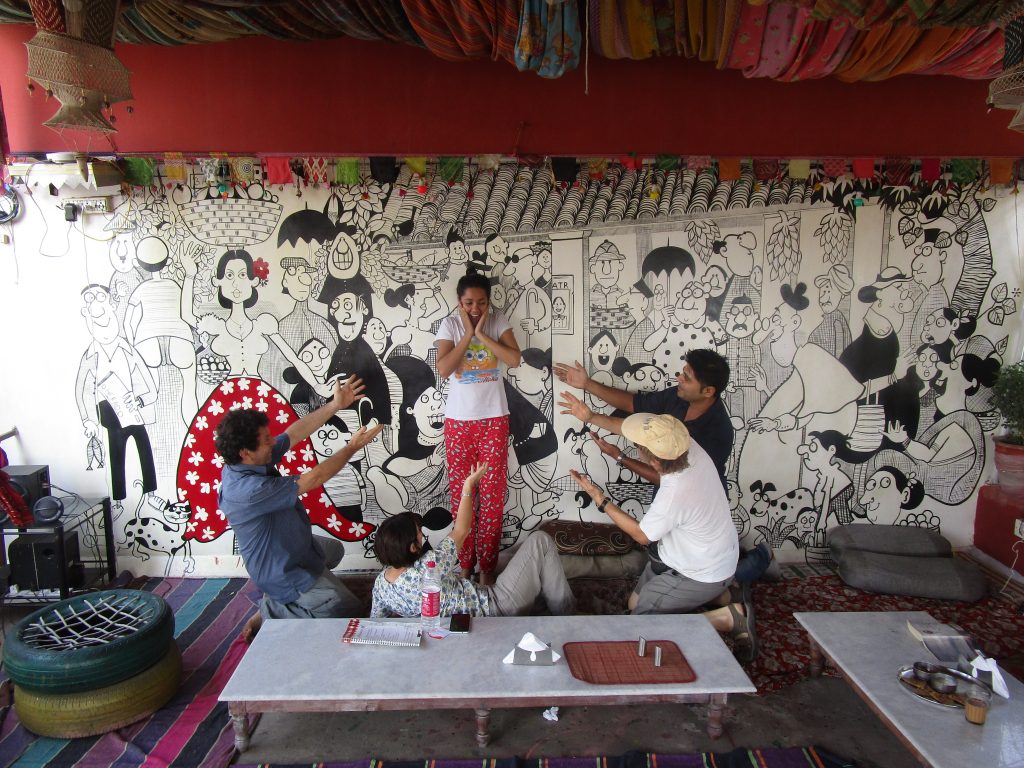 Before we headed out I managed to catch up with Anant and Swati who I met last year.  Swati is an artist and we went out for breakfast and then paid homage to her in front of her mural in the Chillout restaurant.
Our first stop was at a small factory (shop?) where they carve wooden blocks for textile printing.  The final result is quite intricate, but the process is actually fairly simple.  Take a block of wood and chip away all the "not design" to leave a raised pattern.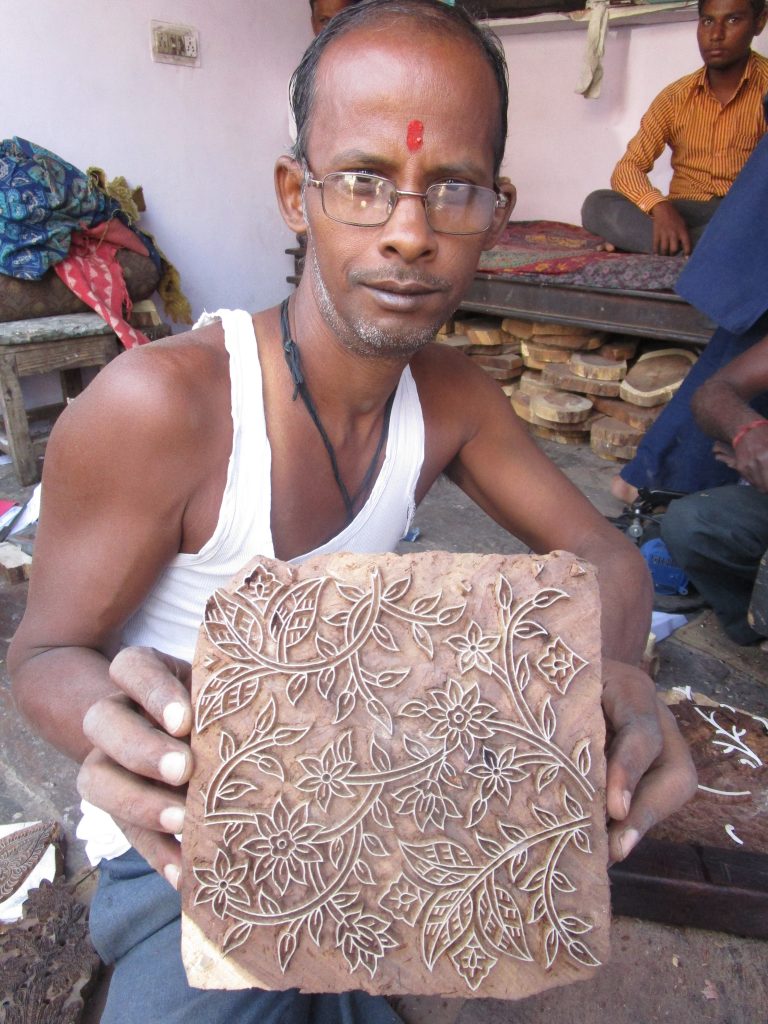 Finally out of Jaipur, India is getting more rural.  We are driving through small villages full of visual treats.
Much of India still doesn't have running water.  There are well all over and seeing women (only) carrying water is quite common.
One of the great things about these tours with Ajeet is that everything is included.  We don't have to put our hands in our pocket for anything except…well, that is for the next post.
We gave Ajeet some advice that it shouldn't include beer.  Well, after this tour anyway ;o) Lucky for him we are light drinkers, but if he paid for it and people had a big session it would make a dent in his profit.  Having some older guests, especially a couple of accounting and management academics had us throwing ideas to help him improve his business.  He seemed keen to take much of it on board and it was lovely to be able to contribute to a young bloke in the early days of an exciting project.
"What is that crowd under the tree?" someone asked as we passed a big field where there was…you guessed it…quite a crowd under a tree.  Ajeet said "Cricket.  You want to play?".  But of course! We do a u-turn and drive across a big field covered in wheat stubble.  Much of the subtlety of this yarn will be lost on the UnAustralian readers.
Under the lone tree are about 20 young men standing in the shade.  The car stops, I jump out and scream AUSTRALIA!!!!  They look bewildered.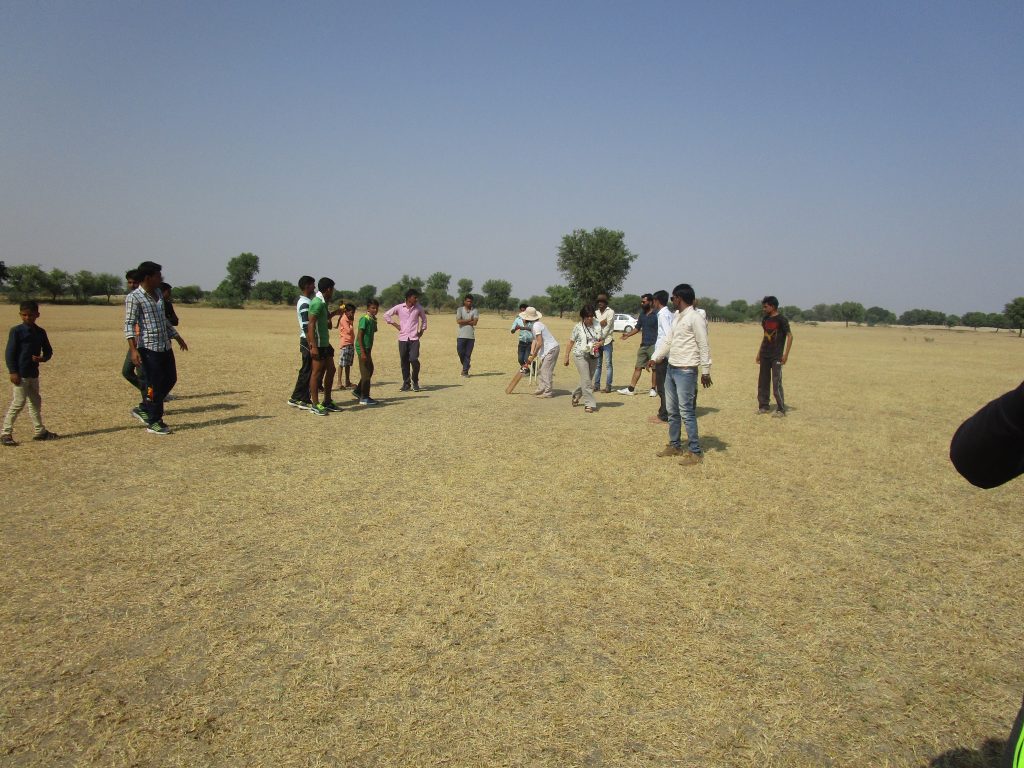 Before long we have challenged them to an India V Australia game (plus the UK represented by Jane) and it is match on.  We all stride out into the middle of the field where the stumps are set up.  There is lots of laughter and they are all taking photos and videos.
Dawne is first to bat.  The Indian bowler comes in and delivers what can best be described as a throw, it goes wide and a long way.  He is ribbed mercilessly by everyone and is immediately relieved as bowler.   The next ball sees Dawne connect, hit it over everyone's head, and get a run.
Tiff is now batting and he belts the tennis ball a really long way causing some poor kid to be bullied into running after it.  We declared victory for the visitors and a tour photo was organised.  The whole thing was an absolute hoot and no doubt will be talked about for ages.
Back on the road and Ajeet points out some people digging a well.  It turns out they are actually deepening a well because the water table has dropped.  There were 4 or 5 men working at ground level.  About 20 metres down the well, standing in water, were 4 men loading rocks into the bucket of a crane.  This was connected to a standing engine blowing huge amounts of diesel fumes that hauled the bucket up where the arm was swung around and manually emptied.
Watching all this hard work made us realise it had passed beer o'clock so we asked around and eventually found the beer walla down a back road.
I wanted to walk back while the group stocked up, there were some mud houses to photograph.  The rest of the group joined me and as usual it turned into a meet and greet with the locals.
Why on earth had we been drinking Kingfisher beer when Haywards 5000 was so much better… and stronger?
Onwards to the village of Toda Rai Singh, known for its stepwells.  While my tour group may be starting to appreciate them, I am not sure I have converted them into enthusiasts.  I think it will take repeated exposure.  There will be plenty :o)
In the back of another stepwell in the village (the 3rd we had looked at) was a bunch of houses and loads of photo opportunities, accompanied by a growing crowd of locals…as usual.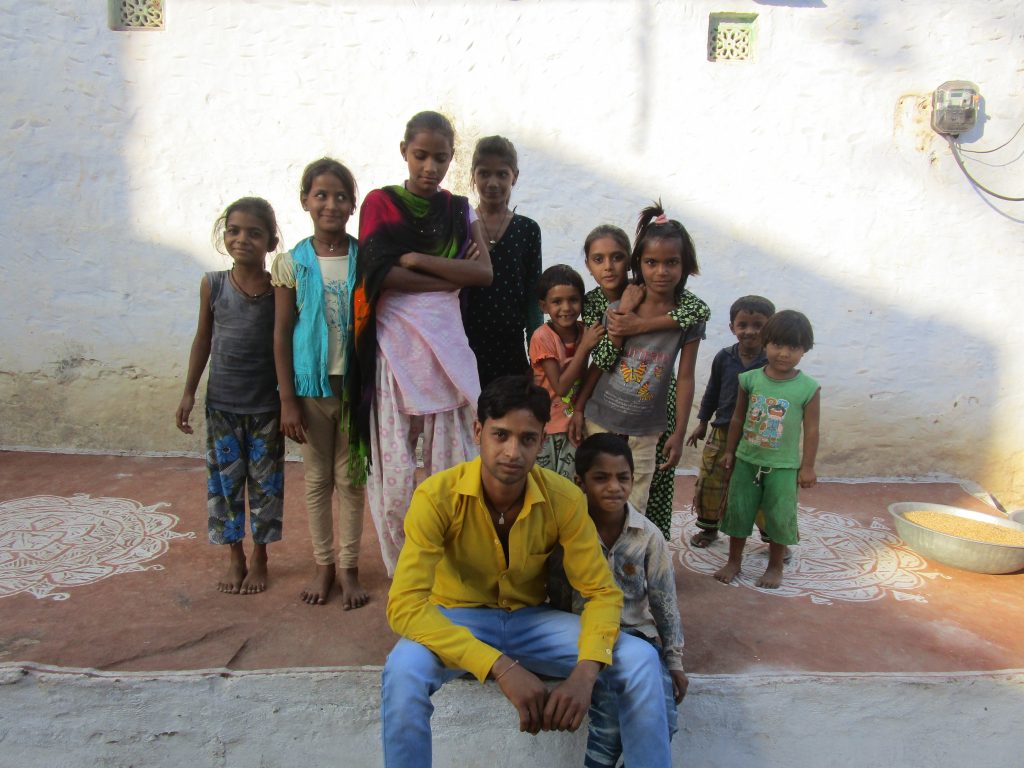 Not sure how the older bloke managed to photo bomb this one. The people were lovely and friendly and delighted to be in photos.
Sound like a full and action packed day?  It is not finished yet.
With all these stops, it was approaching sunset so rather than climb to a temple overlooking the lake, we headed to a different temple on the edge of the lake.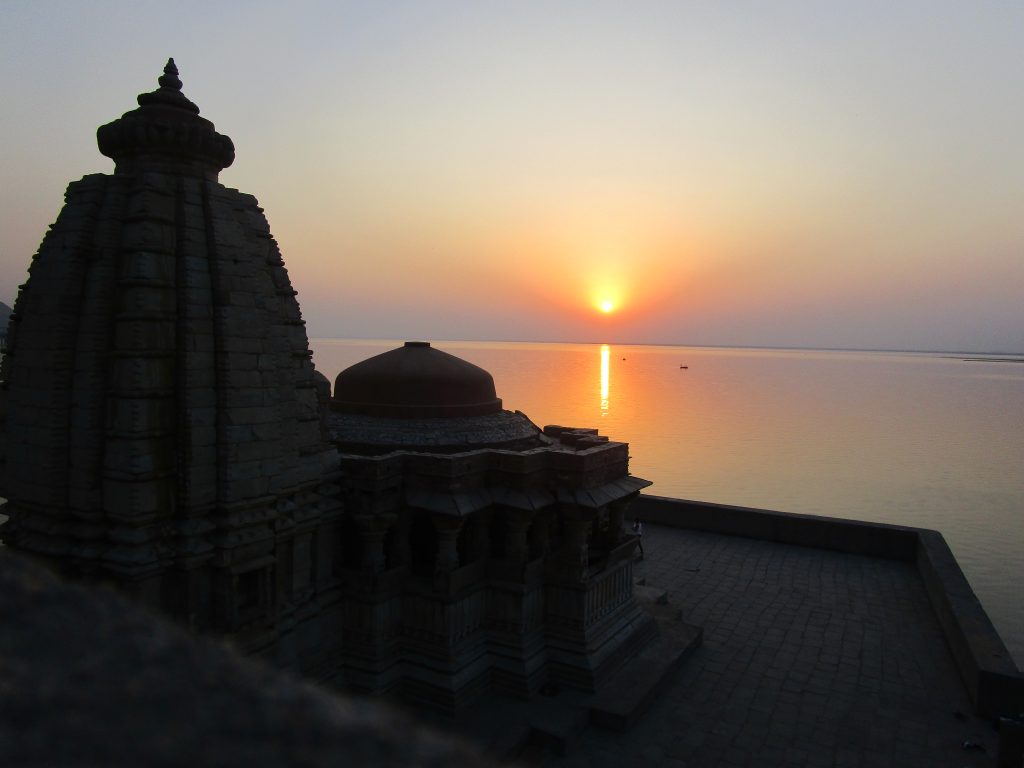 It was calm and peaceful as the sun sank slowly into the haze.
Not only does Ajeet know the best spots, he is also expert at finding the worst roads which are a special kind of fun at night.
We make it to Bundi fairly late and a black of planning plus some over confidence saw only 2 rooms available at Shivam.  Being tour leader I am also a special kind of special so I had a room and there was 3 in the other.  Ajeet sleeps on the roof.
I managed to get this post done because I got separated the others this afternoon in real time.
Stay tuned for Part 2 of the tour. I am only 4 days behind now.