A while back, in a Lonely Planet guide to India I read about the Kerala backwaters in the south west. There was lots written about day tours and house boats, but what grabbed me was the chance to catch a two day ferry trip north to Kochi (Cochin).
This plan was a kind of link in my trip, head south west, then by ferry start the trip north taking 3 weeks to get to Delhi. So you can imagine how delighted I was to get to Kollam and find that there is no such ferry.
But this trip is an adventure and on adventures things don't go smoothly, after all, that's what makes it an adventure, right?
In fact, despite my disappointment things were going well. My Bangalore Belly was settling down, I managed to get to Kollam, I had another amazeballs experience and I am in India. There is a ferry, but it only goes to Alleppey, takes 8hrs and costs Rs400 ($AUD9), then I can get a bus to Kochi.
There is a temptation to not write about this day, just post pictures of the most incredibly surprising trip. A double decker ferry with about 20 people on board chugging along coconut palm lined canals passing fishing canoes and houses and people and hot and humid.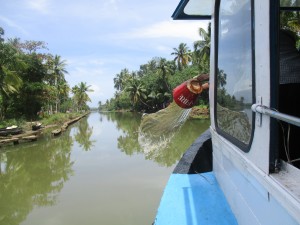 I have more photos but internet is frustratingly slow and as much as I am enjoying writing all this, it is painful Maybe I will add some more later or figure out how to make my Google album public.
Do check out this video of a steampunkish coconut oil extraction factory

And somewhere along the way I took my watch off…