Not all the advice I get turns out perfectly. Someone mentioned that on trains to get a side berth as they are a bit more airy. No, they aren't. Also compared to regular berths you sleep along the train (vs across) which means that the train rocks you side to side instead of head to foot. Throw in a scheduled 0400hrs arrival in Madgaon and it was not a good night.
An alarm for 0345 worked and I was delighted to discover the train was an hour late…oh precious sleep, you flash by in the night. Even if you know a place, arriving there way too early is a drag, but arriving in a town you didn't know existed until a few days ago adds a degree of difficulty. Despite my better judgement I ask a taxi driver to take me to a hotel and I end up at a quiet little place (I'll leave the description at that, it sounds almost romantic) in Colva Beach.
Here is the entire entry that has since been removed from Lonely Planet
If it's a beach paradise you're after, you'll likely be disappointed with what's waiting to greet you in Colva. A large concrete roundabout marks the end of the beach road and the entrance to the beach, and is filled with daytrippers and listless hawkers. The main beach drag is lined with stalls and shabby cafes; sure, it's got all the material needs you're seeking, but as far as atmosphere goes, it's sorely lacking. Still, it makes a decent break if you're pottering along down the coast, or are in need of a water-sports fix.
It is a tired place and during the off season (monsoon time) there is a feeling of a town trying just that bit hard to make a go of it.
Then there is the beach itself which is why people come. It is long, lined with coconut palms, and the ocean stretches out to the west. It doesn't quite compare to Pacific Island beaches but it is lovely to take long walks along. And on long walks the surprises happen.
I timed an afternoon walk to coincide with sunset and there he is again, Ganesh this time the end result of all the celebrations, he is immersed in the ocean.
All you have to do is look interested and people happily include you.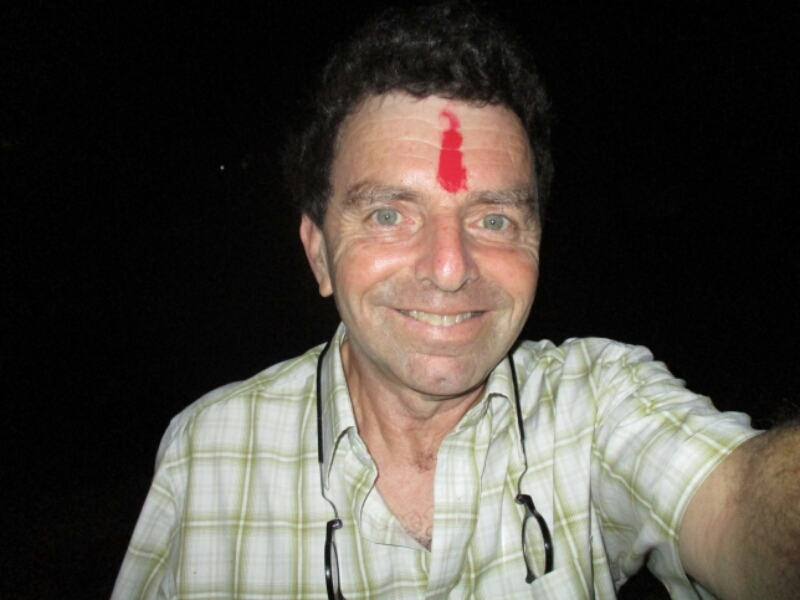 I've had not much appetite the last couple of days, yesterday only ate 2 bananas. Had a light breakfast and was peckish at dinner but only wanted a small meal. Yeah, right…