Location: Pushkar Fair, commonly known as the Pushkar Camel Fair

Hotel: Back at the Hotel Paramount where prices have doubled for the fair
*Obligatory Fawlty Towers reference – you'll see.
Bikaner isn't a bad place.  I liked the old city, walked a long way there, around it and back.  During the walk I learned a few more Hindi words and letters and made a Facebook friend who only posts in Hindi.  I won't rest until I can reply in Hindi.
I kind of missed getting off the bus where I wanted to so picked a spot at an intersection with a main road, it is easier to get to somewhere else.  Using google maps I found the nearby Chandra Niwas Guesthouse had decent reviews, so walked the 10 minutes there.  Quite a nice place, very homey with family photos and memorabilia everywhere.
Then a guy says "good to see you again" and it turns out that a friend of the owner runs the hotel I stayed at in Jaisalmer 3 days earlier and is visiting.  An absolute coincidence, what are the odds?
I still enjoy sugar cane juice and there was a street vendor more or less opposite the hotel.  I loved the ingenuity of his cart.  Likely it is a standard build, but I haven't seen it before.
I know I mention the cows and their "couldn't give a shit" attitude often, but they are everywhere, all the time.  Actually, they do give a shit, a lot of it, to the point where you need to watch where you walk.  I was watching this big guy for a while before I thought to pull out my camera, and then of course as soon as I did, he moved…reluctantly.
One of the main attractions of Bikaner is about 30km away in a town called Deshnok, the Kani Mata Temple.  If you are mysophobia (from Greek), murophobic (from the taxonomic name) or suriphobic (from French) you might want to look away now because you are not going to be able to unsee the videos I post.
I'll be more specific: if you don't like rodents jump over this section because Karni Mata is the rat temple.  I had heard about it (thanks Beccy), but even though rodents don't bother me, nothing quite prepares you for the  reported 20,000 black rats that live there.
The first video will give many people the willies, it is what you see on first entering the temple complex.
They are as everywhere as they look.  Climbing up, down, through, over, under and around everything.  Have I left out a description?  If so, you can be sure they were doing that too.  If you stand still they will either run over your bare feet (no shoes in temples) or come close to investigate.
There are constant shrieks from people and some kids are being carried.  I am certain some adults would be too if they could.  They have no choice but to be there as they have possibly come a very long way on a pilgrimage.  There's been a lot of pilgrimage talk recently in posts and there will be more, but for now, I'll stick with rats.
If you are lucky, you will spot one of a handful of white rats. They are believed to be the manifestations of Karni Mata herself and her four sons. Sighting them is a special blessing and visitors are craning their necks, peering into nooks and crannies hoping to see one – there was a bit of excitement after I took the video, but no confirmed white rat sighting.
Inside the temple proper are more rats.  I walked around the back, more rats.  I found women cooking, more rats.  There's a lot of rats.  Hindus often walk three times around the central place where the god is situated.  I walked around with video going, unfortunately aside from the shrieks, you really don't get the full effect until I walk back into the main chamber.  You may not be able to forgive me for traumatising you, but please forgive me for not being able to edit the dodgy bits.
My challenge for the day was to find and catch a local bus to Deshnok and then to find the bus to Ajmer from where I would take another bus the last 45 minutes or so to Pushkar – at least I knew how and where to catch this one.
This was a good plan until the Indian Prime Minister intervened by giving about 5 hours notice that R500 ($10) and R1,000 notes would no longer be legal tender from midnight on Tuesday the 8th.  In Australia it would be the equivalent of the government saying " from midnight tonight $50 and $100 notes can't be spent".  Banks were to be closed on Wednesday and ATMs closed until Friday so that new notes can be issued. This certainly became a distraction from the outcome in America.
Ostensibly the idea is to kill the black economy (it won't, the GST didn't in Australia), to starve terrorists of their smuggled funding and to get rid of an apparent flood of counterfeits.
I actually didn't hear about this until Wednesday afternoon and had R2,000 in 500s plus R280 in smaller notes.  SHIT!!!  I wanted to leave the next morning but wouldn't be able to pay for my room.  Fortunately Mr Singh was willing to take R500 notes as payment but he wouldn't change any more for me.  I wasn't going to press the point as I was grateful, he likely figured it was the only way he could get paid.  True at that point.
I had it figured that not including bus fares, I could eat OK as long as I stuck to R10 street food – which can be delicious.  I was getting a little stressed then I remembered – as someone put it during a conversation in Udaipur – T.I.I.  This Is India.  They liked my version O.I.I.  Only In India.  Once I reminded myself of T.I.I. an O.I.I., I knew it would be a hassle but would work out.
I spotted the bank while working out where to catch the Deshnok bus and wandered over.  There had to be a way to beat the queue so I pulled out my passport and went to the front telling a cop I wanted to check that an Australian passport was sufficient ID.  I should add that to either deposit or exchange notes you need ID, fill out a form , provide a copy of your ID and there is an exchange limit of R4,000 at a time or maybe per day.
Cop called someone from inside and he confirmed passport was fine.  Now I was at the front of the line, though off to the side and I wasn't budging, unless ordered to.  Twenty minutes to opening time.  Forms are being handed out to many reaching hands, people are trying to wrangle their way inside with the select fee who likely know someone, the crowd is growing.
10AM and they start letting people in.  The orderly line dissolves into a mass of people and I squirm around the cop and I am inside!!!! No one told me that I needed a copy of my passport through.  After standing in line for 10 minutes to get ID verified,  guy initially knocked me back for not having a copy, I pleaded that I only had 3 notes to change, please help me.  (Are you paying attention to what happened there?) He did and made a copy.  YES!!
Move to the cash window and join another 15 minute line and I finally get my R1,500 in R100 notes. (how is your attention to detail?)  It is chaos in the bank and a battle to get out the door.
Finally I am on the bus to Deshnok, I pull out my wad of notes to pay the odd R237 fare and those who have been following closely know what I found, one last R500 note…sigh…not the end of the world, but damned annoying.
To jump ahead, it is now Friday night and my plan is when I wake up at 0400 like usual :o( , to go to an ATM and hope it has some money in it.
The 250km bus trip took 6 long hours – remind me to not take a government bus for a long trip – and the one good thing?  I looked at the map on my phone and realised the bus was going through Pushkar on its way to Ajmer.  It was already dark, I was thankful it was one bus trip and an hour saved.
Saturday morning:  I went ATM visiting at 0630 and they are all closed having apparently run out of money.  This is starting to get interesting 😛
Snacks are an essential part of a long bus trip and there is rarely a shortage offerings.  When a bus pulls up there are always vendors the windows and coming on board. This is a R10 serving of delicious pakora.
and pappad (I didn't buy any) are 2 for R10 as well as a visual treat.
The Pushkar Fair is worthy of a post of its own, but if I fall behind I'll never catch up.  Besides, this is only my first day, so I am sure there will be lots more to add.
Here is my introduction to the fair, first thing I see when I hit the main road to the fair ground.
The name is now the Pushkar Fair though it started out as and is commonly known the Pushkar Camel Fair.  There are lots of camels, horses and cattle for sale in a huge dusty and sandy area on the edge of town.
This article at Wikipedia is very incomplete, but it gives you an idea, I'll try to fill in the gaps.
There's a lot of people in town and the place feels very different to my previous two visits.  Much of the activity is at the ghats around the lake where people come to bathe and pray.  There's no livestock here despite the Wikipedia article making it sound like there is.
Hah! I just made a Freudian typo adding the word pay instead of pray so this is a good point to tell my Pushkar puja story.  The activity at the ghats is fascinating.  I can stand for ages watching an endless stream of people coming to bathe and pray – no photos allowed.  The Ajmer Civil Defence force is on hand with members holding bamboo poles positioned every 10m or so to 'rescue' pilgrims who struggle to get out, the steps are really slippery under water.  How do I know?  Sigh…
I have gotten to know a few people in Pushkar and one man sees me as I am walking along the ghats and wants to tell me the spiritual significance of the lake.  Next thing I know I am in the lake, shirtless, bathing with everyone else.  If there really is a god I'm sure she would have spoken to me and said Steve, before entering my holy water, remember to remove your hearing aids.  She had the chance to win me over and blew it.  I'll come back to this.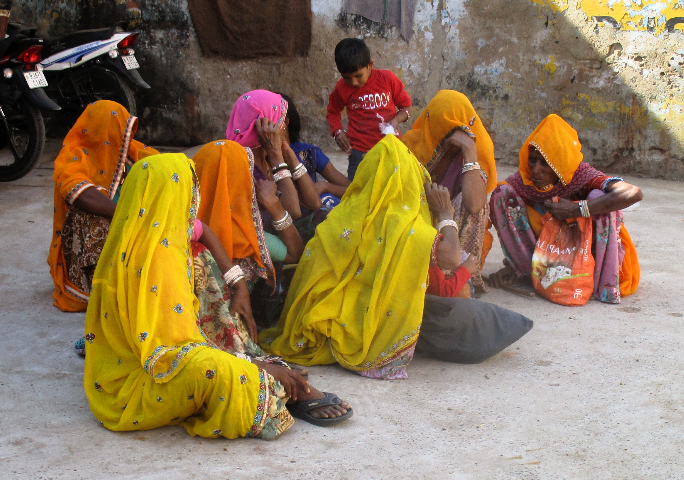 I bathe in water that is in desperate need of filtration and use one of the many ropes to get out without slipping over or requiring a bamboo pole.  There is considerable interest in a westerner participating in the puja ceremony, I am not sure whether they disapprove or are curious, I think more the latter.  Then, with thoughts of wet hearing aids dominating my head. I repeat a lot of words in both Hindi and English about good karma for me and my family and other things I couldn't understand.
Of course there is the obligatory deal closer asking for money based on the number of members of my family that have died. Fortunately he had only gone back 7 generations at $2 (not Rupees) a head or it might have gotten stupidly expensive instead of ridiculously expensive.
The thing that pisses me of about this stuff is the sneakiness before the request for money.  People offer to help, shake my hand, ask where I am from, explain puja, all sorts of things and they mostly end up in a request for money.  I want to make it clear that this isn't always true.  I have had so much fun talking to people who approach me or have just sold me a drink or food.  But not being up front about expecting payment makes me dig my heels in.
On the other hand, there are many beggars in the streets including lots of really interesting looking holy men – at least they look like holy men – who walk around openly asking for money.  I hate seeing tourists take their photo and then not give them any.  I find it incredibly rude and last night was tempted to say something to one woman, but held my tongue.
Puja complete and I have clearly told the guy that because of the money thing I don't have much cash and he won't be getting any today, though I will bring him some tomorrow – though likely not as much as he is expecting.  He insists on walking me to an ATM – are you getting how these scenes play out? – and fortunately I don't have my card with me, besides ATMs have long lines out the front.
So I leave him empty handed for now, throwing my fate to the mercy of one of the millions of Hindu gods.  My other immediate concern is that one hearing aid isn't working, maybe this is instant karma!  Heading back to my hotel I ask for some uncooked rice which I recall will absorb moisture in situations like this.  It takes a while to explain that I want neither fried or steamed rice and I am relieved to report that after leaving hearing aids buried for a couple of hours they are both now working.  Whew!
The Mela ground is a big stadium where all the official and unofficial activities take place – apart from the rides it is all free.  This is an incomplete list of the things I saw there over a few hours.
Camel rides
Magicians
Tightrope walking
Horse rides
Musical chairs
Kids dancing
Hot air balloon rides
A rock concert
A sporting event I couldn't get the name of – see video
Water Buffaloes being paraded – see different video
A drone – technically a hexacopter
It was non stop and fantastic.  As a former street performer I loved watching the magicians.  To me their sleight of hand tricks were easily spotted, but mixed with obvious comedy (it was all in Hindi) they had the crowds going.  I watched one guy for ages, his volunteers were clearly accomplices and I noticed something weird.  They never asked for money.
I started to wonder why and then shoved my hands in my pockets as I suspected they also had pickpockets working the crowd.  It was the only reason I could think of they didn't pass a hat.  Though I imagine that unless they picked their mark (like me) it would be slim pickings from most pockets.
The other fascinating thing was this game.  I had a guy explaining it to me and it seems like an elaborate game of tag or touch football without the ball.  Players are are eliminated when touched by the single intruder and the defenders have to try to catch him but he can do something which will bring his eliminated team mates back into the game, but he has to stay inside some lines and it is a bit confusing to the casual observer.  So team numbers grow and shrink as the game progresses.  It was quite intense for the players and very enjoyable for the spectators.
The blog title and activity list hint at water buffaloes.  But these aren't your ordinary water buffalo.  I suspect some generic engineering or mating with hippopotami as these shaved and oiled animals are monsters.
Once again, this is all in one day!!!
Here's some more fun of the fair, there are 4 ferris wheels!!!
I saw these guys walking in a parade in the late morning, there was a lot more in the group than you can see.
In the evening they set up a food stall handing out food to the poor – and anyone else who wants, I was welcome.  In this case I offered a donation, they wouldn't take it.  This is India.
Once I took the photo in the kitchen, everyone wanted their photo taken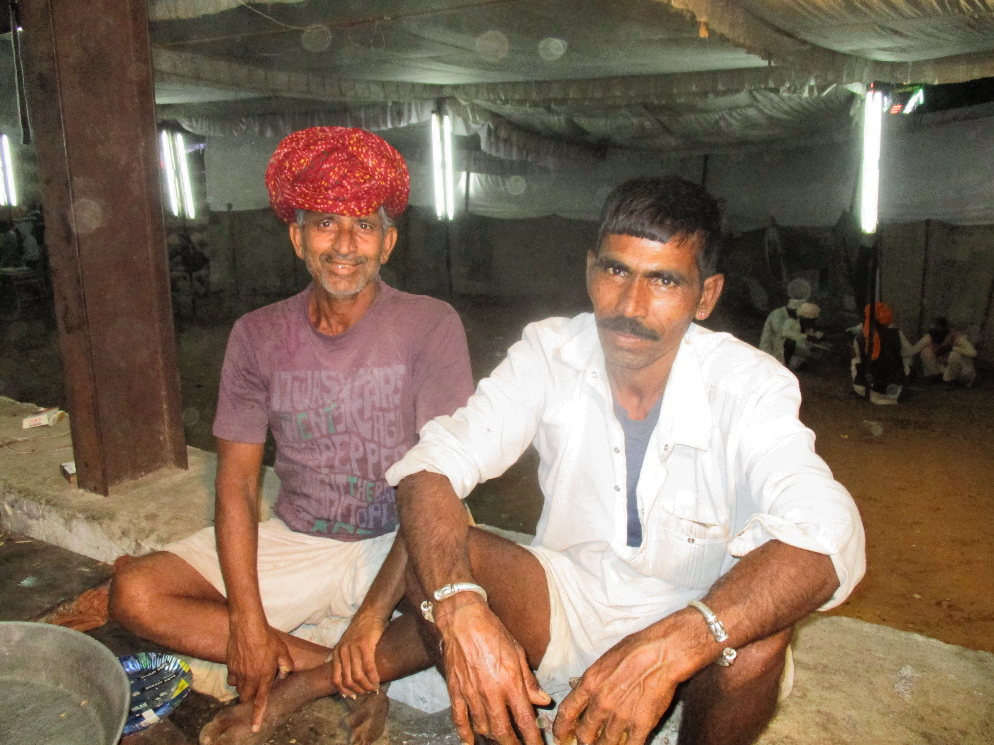 I am ready to hit the streets and have breakfast then head to an ATM or the fair wearing my combination sun protecting and cool night warming Indian shawl.
All I need now to look the part is a turban…and a tan.