I am so far behind on this blog, but I have so lost track of time I can't tell.  There are going to be things out of order, but that doesn't matter does it?   For now I think I will just jump to Palitana.
It's a relatively small place, about 15,000 people but the one thing it does have going for it, apart from a wonderful couch surfing (CS) host, is the most important temple complex in the Jain religion.
Sorry, you are going to have to do you're own research on where Jainism fits, best I can tell is that it is sort of related to  Hinduism.  The most obvious thing about Jainism is their diet.  As well as vegetarian, they eat nothing that grows below the ground – onions, garlic, ginger, potatoes.  It has to do with valuing all life, including microbes in the soil.  However they do eat peanuts because they were in their shell.  I did say you would have to do your own research
Dashiki and good family are Jain's and suggested Palitana and the.         temple complex.  This place is not for the weak of body or spirit.  It is at the top of a mountain and there are 3,300 steps leading up there.
Of course if you are weak of body or spirit you can hire either a two man or four man team of porters to carry you up and many people do because this is an important pilgrimage, so they will do what it takes to get to the top.
It is a long climb, it took me about 90 minutes going slowly but steadily, zig zagging up the steps at a 45° angle to make it a little easier.  Also it is hot, I started at 0730 in the cool of the morning, I don't think you'd want to get going much later than that and expect to survive.
A couple of months ago I discovered step wells via this story.  I contacted Victoria and she sent me some info about them in big cities.  So it was cool to discover several step wells on the way up the mountain.
I think I mentioned that 3,300 steps is a long way, and to paraphrase my Indian friend Ashok "Travelling India is an exercise in endurance, but the rewards are worth it".
This is not a temple, it is a complex of around 1,300 temples according to my CS host who also happens to be a tour guide – but was unavailable the day I went up.  Did you read my way of relating the Ganesh festival to any festival you have been to?  Do something similar for any Indian temple you have seen, multiply it by a very big number to get the awesomeness level of this place.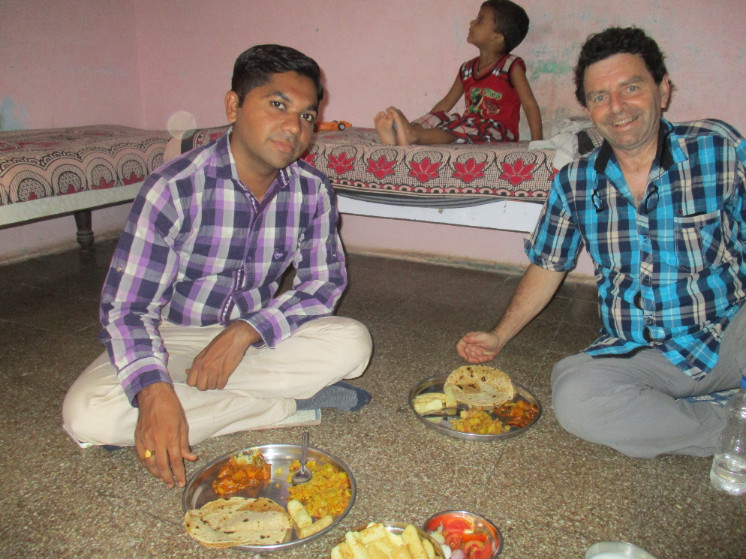 More than once I was on the verge of tears I was so moved by the vastness and beauty of the carvings.  Because I was playing tourist rather than pilgrim I had more "freedom" to wander, so after seeing the very crowded temples and people doing their devotions, I went into the quiet areas where I could sit away from the hustle and just look.
The biggest temple, Sonji Tuk was actually the quietest.  The importance of a deity doesn't seem to relate to the size of the temple.  But this one had something special, the most beautiful painted dinner ceiling.  I asked and was allowed to lie on my back and just look at it for a long time.  A priest thought I was sleeping and wanted to move me along, but a guard explained and all was good.  I could have laid there for hours and can't share photos because it is prohibited.
Barat suggested an hour would be enough, 3 hours later I decided to head back down.  By this time it is 1200 and really hot.
[Update] this was another draft, in an effort to catch up I will finish here with a few annotated photos.